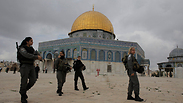 Dome of the Rock, Temple Mount
Photo: Reuters
Prime Minister Benjamin Netanyahu on Saturday night slammed the UN's Educational, Scientific and Cultural Organization's (UNESCO) unilateral condemnation of "Israeli aggression on the Temple Mount," saying UNESCO was completely disregarding the fact that it's also a holy site for Jews.

The resolution was passed on Friday with 33 votes in favor, six against, and 17 abstained. France, Spain, Sweden, Russia and Slovenia were among the non-Arab nations who supported the resolution, while Estonia, Germany, Lithuania, the Netherlands, the United Kingdom and the United States objected.

The resolution doesn't refer to the "Temple Mount," and instead calls it by its Arab name "al-Haram al-Sharif" or the "al-Aqsa Mosque," while repeatedly referring to Israel as "the occupying power."

It "deeply deplores the failure of Israel, the Occupying Power, to cease the persistent excavations and works in East Jerusalem particularly in and around the Old City, and reiterates its request to Israel, the Occupying Power, to prohibit all such works in conformity with its obligations under the provisions of the relevant UNESCO conventions, resolutions and decisions."




The resolution also calls on Israel to "allow for the restoration of the historic status quo that prevailed until September 2000" and condemns "Israeli aggressions and illegal measures against the freedom of worship and Muslims' access to their Holy Site Al-Aqsa Mosque/Al-Haram Al Sharif."

Furthermore, the resolution accuses Israel of "banning Muslims from burying their dead in some spaces" and of "planting Jewish fake graves in other spaces of the Muslim cemeteries."

"This is yet another absurd UN decision. UNESCO ignores the unique historic connection of Judaism to the Temple Mount, where the two temples stood for a thousand years and to which every Jew in the world has prayed for thousands of years," Netanyahu said.

"The UN is rewriting a basic part of human history and has again proven that there is no low to which it will not stoop," the prime minister continued.

Meanwhile, Yesh Atid party chairman Yair Lapid called the UNESCO decision a "stain on the UN," and called on the organization to rescind the condemnation.

Lapid said "this decision is a worrying opportunity to rewrite history and reality as part of a continuing political attack on the State of Israel and on Judaism."

He then added that "Palestinian incitement regarding the Temple Mount – which is proven time and time again to be lies – has already led to the deaths of dozens of Israelis in this current wave of terrorism. (UNESCO's) decision feeds and prolongs this wave of terror, and will cause the deaths of dozens of more innocents. (UNESCO) cannot shirk away from this responsibility."