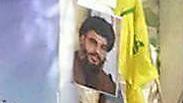 Nasrallah posters at the rally
Dozens of Palestinians and Druze from the Golan Heights held a pro-Hezbollah rally in the West Bank town of Kafr Ni'me west of Ramallah on Saturday.

The rally, which was organized by the Popular Front for the Liberation of Palestine (PFLP), was an unusual public display of support for the fighters of the terror organization. It featured Hezbollah and Palestinian flags alongside placards of Hezbollah leader Hassan Nasrallah.

"We stand behind and support the strategic decisions of the resistance (Hezbollah - ed.), and we don't believe that the resistance is a terror group," said Omar Shahadah, a PFLP member who participated in the rally.

He added that the Palestinian fighters will continue to fight against the "expulsion of the occupation" generation after generation, and fight to establish a state on all of historic Palestine, with Jerusalem as their capital.

Praise for Hezbollah's involvement in Syrian civil war was also made. "We come here to say 'yes' to resistance and 'yes' to Hezbollah, which is the conscience of the resistance. We send our blessings from here to the Hezbollah resistance, and to its martyrs," said Mohammed Tah, another participant in the rally.

Protesters also condemned Arab countries who define Hezbollah as a terror organization.

However, it seems that there was a dual purpose for the rally. Over the past few days, there has been a public battle between Palestinian Authority President Mahmoud Abbas and the PFLP. The PFLP publicly criticized Abbas for saying that he does not want another intifada to erupt, with the PFLP even calling for Abbas's resignation.

In response, Abbas decided to completely stop all Palestinian Liberation Organization (PLO) monetary transfers to the PFLP (both Fatah and the PFLP are a part of the PLO).

This angered the PFLP, and it seems that this rally was held with the secondary goal of expressing defiance and opposition to Abbas and the PA.