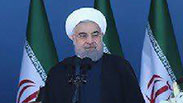 Iranian President Rouhani
Iran's President Hassan Rouhani on Sunday vowed to defend Muslim countries against terrorism and Israel while insisting that its neighbors should not feel threatened.

Speaking during a National Army Day parade in which Iranian forces displayed sophisticated air defense systems recently acquired from Russia, Rouhani praised Tehran's role in helping the Syrian and Iraqi governments roll back the Islamic State group.

"If tomorrow your capitals face danger from terrorism or Zionism, the power that will give you a positive answer is the Islamic Republic of Iran," he said. But he added that Iran would only help if Muslim countries asked it to, and said its military power was purely for defensive and deterrent purposes.

"The power of our armed forces is not aimed at any of our neighbours ... Its purpose is to defend Islamic Iran and act as an active deterrent," he said.

He appeared to be referring to Gulf Arab states, which have long viewed Iran as seeking to dominate the region. Saudi Arabia and Iran are longtime rivals that back opposite sides in the Syrian and Yemeni civil wars.

During the parade, the army displayed Russian-made S-300 air defense missiles delivered earlier this month.

In 2010, Russia froze a deal to supply the sophisticated systems to Iran, linking the decision to UN sanctions. President Vladimir Putin lifted the suspension last year following Iran's deal with six world powers that curbed its nuclear program in exchange for relief from international sanctions.

The United States and Israel have expressed concern over the missile systems, fearing they could upset the regional balance of military power.

Iran also displayed tanks, light submarines, short-range missiles and other weapons.

Rouhani said on Sunday that during the nuclear talks Iranian negotiators also aimed to maintain and boost the country's military capabilities.

Iran has two armies, a regular one which operates as a national defensive force, and the Islamic Revolutionary Guard Corps that was created after the Revolution to protect the Islamic Republic against both internal and external adversaries.

The army has the biggest ground force in Iran and IRGC is in control of growing arsenal of ballistic missiles.

In its first overseas operation since the Revolution, the regular army said earlier this month that it had deployed some of its special forces and commandos to Syria to help President Bashar Assad in the civil war there.

Reuters contributed to this report.