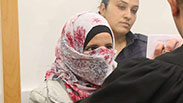 Shatila Abu Iyadh
Photo: Motti Kimchi
Shatila Abu Iyadh, 22, who carried out a stabbing attack in Rosh HaAyin earlier this month was indicted for attempted murder at the Central District Court in Lod on Sunday.

According to the indictment, a dream, in which "the prophet" searched for her, inspired Iydah to become more religious and "kill Jews" as part of her new religious obligations to Allah.

The decision to carry out a stabbing attack was only taken after Idyah failed in implementing a far more deadly attack. Indeed, she set about purchasing the necessary materials to produce a bomb, which she learned to assemble from the internet, and intended to plant in two restaurants in Afek industrial park in Rosh HaAyin. Furthermore, she purchased nuts and bolts intended to maximize the damage.

Iydah also visited the restaurants a number of times beforehand, according to the indictment, and made contact with an individual in order to acquire an automatic weapon. She rejected the weapon supplier's suggestion of purchasing a handgun, believing that an automatic weapon would cause significantly more death and destruction.

However, having failed to purchase a gun or produce a bomb, Iydah resorted to a stabbing attack.

According to the indictment, Iydah left her house on April 3 armed with two knives and headed in the direction of the industrial park, where she prayed for the attack's success, destroyed her phone and searched for a Jewish victim.

"She saw a Jewish woman and decided to kill her," the indictment read. "She charged at her (victim) and stabbed her in her left hand. The shocked victim screamed for help and struggled with (Iydah) until (the victim) fell to the ground. While still on the ground, the victim continued to wrestle with her and kicked her as Iydah continued to attempt to repeatedly stab her. During the skirmish, Iydah managed to stab her again in the chest."

"After I left a work meeting, she suddenly appeared opposite me. She approached me and suddenly I felt a pain as if I had been punched in the hand. I saw that she was holding a massive knife, not a Stanley office knife, but a thick knife," the victim recounted.

"She did not seem to me suspicious at all. I was speaking on the phone. She didn't shout anything. She simply started waving her hand at me and began stabbing me again and again," she added.

"I threw my bag at her and screamed but she continued to stab me until civilians tried to stop her," the victim recounted. "They began to chase her but I didn't see the rest. It was scary. It could have ended much worse. I never thought such a thing could happen in Rosh HaAyin."

Responding to the victim's call for help, bystanders helped subdue the terrorist. After investigating the scene, a number of items were found linking Iyadh to the attack including a letter in which she expressed her desire to die a martyr.

In addition to the attack carried out in Rosh HaAyain, Iydah was also charged for her intention to commit a shooting attack in Jerusalem. However, she re-assessed her chances of success after visiting the city and noticing the large security presence.