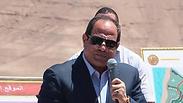 A delegation of Israeli industrialists visit Egypt
A delegation of 38 Israeli captains of industry went to Egypt under the framework of the Qualifying Industrial Zones (QIZ) last week for the first time in 10 years.

The delegation was sent in an attempt to determine the viability of strengthening Israeli economic cooperation with Egypt.

The industrialists were warmly welcomed by their Egyptian counterparts, who were enthusiastic about the prospect of enlarging the scope of trade between the two countries. A similar delegation of Egyptian industrialists is expected to visit Israel at the end of 2016.

Very little has been done to develop Israel–Egypt trade and economic relations over the past few years. Now, however, with renewed political stability in Egypt, the council decided to open once again to encourage the strengthening of ties between the two countries and to strengthen the interpersonal relationships between the two peoples.

Chairman of the Egyptian Textiles Union, Mohammed Qasem, prepared the meeting schedule, whereby the Israelis met with Egyptian and other existing customers, and had the Israeli industrialists go on tours of local Egyptian factories.

Most of the industrialists who took part in the delegation work in textile, chemical, plastic, or packaging production, and were looking into the possibility of expanding exports of different products to Egypt.

Israeli exports to Egypt in 2015 amounted to $113.1 million, compared to $147.1 million in 2014. Meanwhile, Israeli imports from Egypt are much less: $54.6 million dollars worth in 2015 and $58.3 million in 2014.

2011 was the last year that trade between the two countries was at full strength, with Israel exporting $236 million worth of goods to Egypt and imports of $178.5 million. The drastic reduction in trade came about as a result of the Egyptian Revolution which came about as part of the Arab Spring.

Meanwhile, the Muslim Brotherhood and other opposition party members have attacked Egyptian President Abdul Fatah a-Sisi for trying to create a high level of normalization with Israel. Their indignation began as a result of the Central of Egypt's decision to allow the foreign exchange of shekels. It's the first time that the bank has recognized Israeli currency, and even set an exchange rate: 2.19 Egyptian pounds to a shekel.