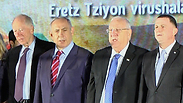 National Library's cornerstone-laying ceremony
Construction of a new home for the National Library of Israel began last week in a cornerstone laying ceremony in the presence of the President of Israel Reuven Rivlin and Prime Minister Benjamin Netanyahu.

"The cornerstone laying ceremony was a milestone in a long process of giving a proper home for the books of the people of the book," Oren Weinberg, CEO of National Library of Israel told Tazpit Press Service (TPS).

The National Library of Israel was founded in Jerusalem in 1892 by the oldest international Jewish and Zionist services organization, B'nai B'rith. Since 1925 it has been housed inside the Givat Ram campus of the Hebrew University of Jerusalem, however with time the size of the collection and contemporary needs outgrew the Library's old building and its dated infrastructure.

The new building will be built adjacent to the Knesset in Jerusalem's National Quarter, which Prime Minister Benjamin Netanyahu called "an expression of our people's creative spirit at its finest." It is set to open to the public by 2020.

The planned complex will enable the National Library to provide state-of-the-art services to researchers, readers, visitors and online users, making accessible the millions of intellectual and cultural assets it has collected for more than 120 years.

Among the more valuable and unique collections of the National Library are the complete manuscripts and works by writer Franz Kafka—which Kafka had ordered burned before his death, only to have his wishes disobeyed and the papers housed for decades in a Tel Aviv apartment. The National Library is also home to the complete archives of Nobel Prize-winning physicist Albert Einstein, as well as several manuscripts by Sir Isaac Newton dealing with theology and the Bible.

The project partners are listed as the Government of Israel, the Rothschild family, and the David S. and Ruth L. Gottesman family of New York. Mr. David Gottesman and Baron Jacob Rothschild also attended and spoke at the cornerstone laying ceremony along with Israel's President and Prime Minister.

"Here, in our national quarter, a hill which houses our executive authority, legislative authority and judicial authority, we lay the cornerstone of our cultural-national authority, the National Library of Israel," stated President Reuven Rivlin in his speech.

"The great support we received from the government of Israel, including the president and prime minister as well as other supporters of the library, is testament to the importance of this national project to Israel," Weinberg told TPS.

Reprinted with permission from the Tazpit News Agency.