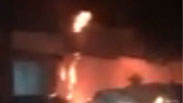 Molotov cocktail being thrown
Molotov cocktails hurled at homes in Jewish East Jerusalem neighborhood
Police arrest Arab hurlers of Molotov cocktails at homes in Ma'ale ha-Zeitim neighborhood; residents of Ma'ale ha-Zeitim complain that similar incidents happen almost daily, but thank police for their efforts to undermine assailants.
Arab residents of East Jerusalem threw Molotov cocktails Saturday at police and Border Policeman in the East Jerusalem neighborhood Ras al-Amud, adjacent to the Jewish neighborhood of Ma'ale ha-Zeitim. The forces arrested one of the assailants. Residents of the Ma'ale ha-Zeitim neighborhood say such incidents occur almost daily.
A member of the Ma'ale ha-Zeitim Security Committee, Joshua Wander, said that Arabs practically hurl Molotov cocktails at Jewish homes and police forces nightly. He added that he heard explosions last night: "I ran outside and I saw the fire and that they (the police) had arrested a number of young persons. It seems that the police had been waiting for them and we would like to thank the police for (its) work."
A video that has spread on Palestinian social networks shows Molotov cocktails being thrown in addition to one of throwers being injured by a Molotov cocktail thrown by another Arab. According to a resident of Ma'ale ha-Zeitim, the documentation of these incidents by Palestinians demonstrates that they are organized. He said. "Throwing Molotov cocktails lasts five seconds. They succeeded in capturing those moments on a camera, which means photographer is one of them."
Maor Tzemah from "Go, Jerusalem," an organization advocating for the full application of Israeli sovereignty over Jerusalem, said, "Unfortunately throwing Molotov cocktails in Jerusalem has become a routine affair. I call on the minister of internal security to use his authority and order the end to this dangerous phenomenon."