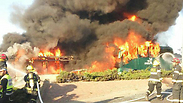 Twenty-one people were wounded when an explosive device blew up on a bus on Monday afternoon, causing it to catch on fire while it was driving on Moshe Baram Road in Jerusalem, in what the defense establishment suspects to be a terror bombing.
The number 12 Egged bus was travelling from the East Talpiot neighborhood (Armon HaNatziv) towards Mount Herzl when an explosion went off on it and it caught fire. As a result of the explosion, a nearby bus and a private vehicle also caught on fire.
Jerusalem District Commander Yoram HaLevy confirmed on Monday evening the explosion was caused by an explosive device placed in the rear part of the bus.
"We are still in the initial stages of the investigation. We're trying to find out primarily where the explosive device came from and who placed it on the bus," HaLevy said, adding that it should not take police much longer to indentify who planted the explosive on the bus.
He did, however, stress that "we can't at the moment come out with a clear statement that this was done by a terrorist or a suicide bomber. We're looking into all possibilities, as we do in every scene of an incident."
Magen David Adom paramedics treated 21 wounded, among them two in serious condition, six in moderate condition and the rest lightly wounded. Some of the wounded are suffering from different degrees of burns, while most are suffering from smoke inhalation. The wounded were taken to Shaare Zedek Medical Center and the Hadassah Medical Center's Ein Karem and Mount Scopus hospitals.
MDA spokesman Zaki Heller said that when paramedics arrived at the scene, all of the wounded were outside the bus and none were found inside by firefighters.
Hadassah's Ein Karem hospital received eight of the wounded, including a 28-year-old woman in serious condition, three wounded in moderate condition (a 25-year-old man, a 40-year-old man, and a 30-year-old woman), and four lightly wounded, all in their 40s.
Shaare Zedek received eight of the wounded as well, including a 30-year-old man in serious condition suffering from injuries to his lower body, three in moderate condition (a 50-year-old woman, a young man, and a 16-year-old teenager) and four lightly wounded (a 48-year-old woman, a 45-year-old man, a 12-year-old boy and a 10-year-old boy).
Prof. Avraham Rivkind, the head of the Shock Unit at the Hadassah Ein Karem hospital, said some of the injuries were in line with injuries from past terror bombings in Jerusalem. "There are penetration wounds. We saw in imaging and we pulled out a nail and nuts," he said.
Scene of the explosion (צילום : מדברים תקשורת)
The bus that exploded was reportedly empty, and the wounded people were in the second bus that caught on fire as a result of the explosion.
'Netanyahu: We will settle the score'
Netanyahu had a strong message to send the terrorists who committed this brazen attack.
"These efforts are continuing to intensify. Two busses were engulfed in flames due to a terror attack. I wish for the speedy recovery of the wounded. We will locate those who made this IED. We will find those who carried out this attack and also those who supported them. We will settle the score with these terrorists."
"We are in a continuous war against terror," he continued. "Terror involving knives, shootings, bombs, rockets, and tunnels. At the outset of my speech, I would like to tell you all that Israel achieved a great achievement in locating these terror tunnels. In the last government, I instructed the IDF and the security apparatus to find a solution to this problem – a problem which no other country in the world has been able to find a solution for."
Israeli President added his condolences of those injured in the attack, saying "our prayers for a speedy recovery go out to those injured in the terror attack, being treated as we speak in hospitals across Jerusalem. On such a day - when thanks to the dedicated work of the security services, this morning the discovery was revealed of a terror tunnel in the south, and in the evening frightened citizens returning from their daily routine are being rushed to hospital – it is clear to us all, that the struggle against terrorism is ceaseless. We will pursue and we will reach all those who wish us harm, until quiet is assured."