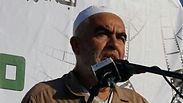 The Supreme Court decided on Monday to shorten the sentence of Raed Salah, the head of the northern branch of the Islamic Movement, from 11 to nine months.

Salah was convicted of incitement to racism and violence for a sermon he delivered in a mosque in East Jerusalem in 2007 following archaeological digs close to the Mughrabi Gate which leads to the Temple Mount.

This is Salah's second appeal in this case. After being sentenced in a Magistrate's Court last October, he appealed to the District Court, where his appeal was rejected. He then appealed to the Supreme Court, where they decided to shorten his sentence due to the fact that the sermon happened a long time ago, and because Saleh has not committed a similar offense since then.

The recent decision was made by a majority opinion penned by judges Elyakim Rubinstein and Anat Baron, against the opinion of Judge Salim Joubran. Joubran asserted the conviction of incitement to racism should be sustained, but Salah should be acquitted of incitement to violence.

Judge Rubenstein wrote in his ruling that "the defendant is a well known figure in the Arab world and in Israel; he is one of the religious leaders of Muslims in Israel ... his speech was given to a large crowd, furious and agitated ... it appears this sermon was organized and planned in a volatile public atmosphere in light of the claims Israel wanted to change the status quo in the al-Aqsa mosque. There is no reason to split hairs to determine these things. The objective of this speech was to incite to racism."

On the other hand, Joubran wrote in his opinion that "there is great importance to the diversity of the crowd and their ability to understand the meaning of (the sermon). I believe that the fact the defendant did not address a specific crowd, willing and politically motivated, but to a general crowd from all over the world, reduces the specificity of the call, and as a result reduces the possibility that this call could bring someone to carry out an act of violence."

"As a crude analogy," Joubran continued, "just as general calls for world peace do not necessarily bring about world peace, I believe that general calls for a 'global intifada' do not necessarily incite to violence."