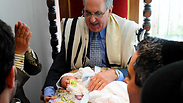 The fight on Islam may also harm Jews (Photo: AP)
Photo: AP
A populist, right-wing political party in Germany has published its platform, in which its intention to ban circumcision and halal and kosher slaughter is laid out.
The AfD Party (Alternative for Germany, Alternative für Deutschland) has become one of Europe's most talked about phenomena in recent months and has achieved unprecedented achievements in recent regional elections in the country.
Against the background of the waves of populist protests throughout Europe, and particularly the immigrant crisis that is plaguing the continent and Germany in particular, the nationalist right-wing party won increasing support from large parts of the German public.
AfD wages a strict policy against Islam, and rides on the waves of fear from the Muslim immigration to Germany. In an exclusive interview granted by the party chairman, Frauke Petry, to Yedioth Ahronoth three weeks ago, she came out against anti-Semitism, and attacked critics of Israel.
But German media recently published AfD's party platform, where it was revealed that alongside the strong opposition to Islam, the Jews in Germany are likely to suffer from the party's harsh policy.
This party is planning, according to German weekly Der Spiegel, the prohibition of circumcision without medical permission.
In addition, the party will seek to completely ban kosher and halal slaughtering, and that will revoke the cancellation clause in the law that allows ritual slaughter for religious practices.
The party's sights will be on Muslims, and the party is expected to determine that "Islam is not suitable to German law." In addition, the party will seek to completely ban the construction of minarets, muezzins' prayers, head coverings and full body coverings, such as the burqa.
In 2012 a Cologne court provoked uproar after it determined that circumcising boys is "grievous bodily harm," and it should be banned. The ruling sparked a row, and for three months thereafter, the German cabinet approved a bill permitting the religious procedure—provided that the parents receive information about its nature and that painkillers be used.