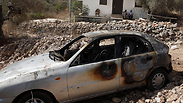 Car set ablaze in suspected 'price tag' attack
Significant developments have taken place in the investigation of five Jews suspected of involvement in acts of terrorism against Palestinians, the Petah Tikva Magistrate's Court cleared for publication on Monday.

The group, currently under investigation, has been interrogated by the Shin Bet and the Israel Police over the past two weeks for allegedly committing hate crimes against Palestinians.

The suspects included two minors and a soldier. The court decided to extend their remand by four days due to the evidence gathered against them.

"The investigation is developing and evidence against the minors is being collected. It must be noted that the evidence is in relation to events which could have put peoples' lives in danger," Judge Eliana Danielly said.

The judge also wrote that the suspicions against the second minor have increased.

However, the judge sharply criticized the way the investigation is being handled, and even noted the medical complications that one of the minors experienced, which required emergency care on Friday.

"The parents gave their agreement for medical treatment, but they weren't given updates as to what was going on. It goes without saying that the parents are very worried because they don't know the medical condition of their son," Judge Danielly said.

Pinhas Shandorfy and Schneur Dana, whose names were cleared for publication last week, are suspected of burning a Palestinian vehicle, affiliation with criminal activities and involvement in an illegal organization.