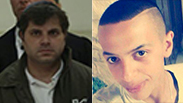 Yosef Ben-David, left, Muhammad Abu Khdeir, right
Photo: Ohad Zwigenberg, Yedioth Ahronoth
Yosef Ben-David, 30, was convicted on Tuesday morning of murdering Palestinian teenager Mohammed Abu Khdeir in July 2014, after the Jerusalem District Court found him responsible for his actions.

In November, the Jerusalem District Court ruled that Ben-David committed the murder, but did not convict him because of a previous psychiatric assessment presented by his attorneys which questioned his sanity.

In February, however, a court-appointed psychiatrist has determined that Ben-David is responsible for his actions and fit to stand trial. Furthermore, the psychiatrist determined that Ben-David's claims were not credible and was only pretending to be insane.

But Ben-David's defense team filed for further psychiatric evaluation. In a private opinion written by Dr. Yonathan Sirkin, it was determined that he committed the kidnapping and murder during a psychotic episode, and therefore is not responsible for his actions.

The judges, however, determined that Ben-David did not have a psychotic episode, and is responsible for his actions.

Hussein, Abu Kdheir's father, said at the end of the hearing, "We knew from the beginning that he was not crazy but rather a liar. It hurts us very much. The trial lasted too long, this is the 35th hearing. Every time we see him our blood boils."

Before the hearing, Hussein demanded justice, saying "Their house should be destroyed, as is done to the Arabs. I expect that he will remain in prison for life and that he will not receive a pardon."

MKs Ahmed Tibi and Osama Saadi (Joint List) attended the hearing.

Abu Khdeir's murder sparked a wave of terrorism in Jerusalem. Ben-David and two minors, who were both convicted for their role in the murder, abducted the 16-year-old teenager and killed him after the funeral of the three Jewish teens Gil-Ad Shaer, Naftali Frenkel and Eyal Yifrach who were kidnapped and murdered on June 12, 2014.