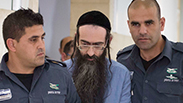 Yishai Shlissel was convicted on Tuesday of murdering 16-year-old Shira Banki and stabbing five others at Jerusalem Gay Pride Parade last July.
"It has been proven beyond reasonable doubt that the plaintiff intentionally caused the death of Shira," ruled Judge Nava Ben-Or of the Jerusalem District Court.
The court issued a scathing critique of the police's management of the gay pride parade's security. "The ease with which the plaintiff successfully infiltrated the parade is beyond comprehension. The writing was on the wall."
Two months before the parade, Shlissel had finished serving a ten year sentence for a similar attack at the gay pride parade in 2005. He was originally sentenced to 12 years in prison, but was released early on good behavior.
Ahead of the parade on July 30, 2015, Shlissel expressed on several occasions, both in the media and in ads published in ultra-Orthodox synagogues in Jerusalem and Kiryat Sefer, his opposition to holding the parade.
The court further criticized the police for not restricting Shlissel's movement or sending him to a rehabilitation program after he was released from prison.
"Shira was a young, innocent, and a good-hearted person. She had hopes and dreams. The plaintiff, in his dark and cruel act, ended her life," the court said.