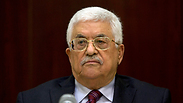 A comment made by Palestinian President Mahmoud Abbas earlier this week about the PA's security cooperation with Israel has caused outrage in the various Palestinian factions.
Abbas made the statement in an interview with Der Spiegel during his visit to Germany, saying "Our security forces are working very efficiently to prevent terror. Just a couple of days ago, three young men were tracked down and arrested. They were planning an attack."
He went on to say that, "Our security cooperation with Israel is functioning well. Hamas is trying to sabotage things, but we have the situation under control."
Hamas was quick to condemn Abbas's statement. Sami Abu Zuhri, the Islamist movement's spokesperson, said that "Abbas is denying the intifada and the resistance's operations." He called on Abbas "to stop making statements that are foreign to our people's culture and national positions."
Other Palestinian factions have also taken shots at Abbas. The Palestinian Front for the Liberation of Palestine (PFLP) called on the PLO Executive Committee, the highest decision-making body in the Palestine Liberation Organization, "to hold the President of the PA accountable and question him (in light) of his political attitudes that cross the line in terms of the customs and tradition of our people and its modern revolution."
The PFLP was angered by the fact that Abbas's statements describe the resistance as terrorism.
The Palestinian Mujahideen Movement joined the chorus of condemnations as well. An official press release of the movement stated that the statements made by the PA president "are erroneous and a national disaster."
Despite popular Palestinian support for knife attacks, Abbas and the Palestinian security forces have continued security cooperation with Israel. PA General Intelligence Chief Majid Faraj even revealed to Defense News in November that the PA had foiled more than 200 attacks against Israelis from October-January. The PA security forces have also carried out numerous arrests of Hamas militants in the West Bank.
However, PA officials continue to threaten to end security cooperation. Just this week, PA Spokesperson Nabil Abu Rudeinah told Al-Quds Al-Arabi, "The coming days will see clear political positions and decisions taken that are not typical," seemingly referring to the possibility of partially ending security cooperation.