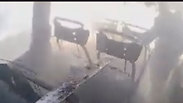 The bus on Monday, shortly after the attack.
Photo: Arik Abulouf, Jerusalem Fire and Rescue
Hamas members arrested in Jerusalem bus bombing case
Monday's bombing of a Jerusalem bus was apparently planned by a Hamas cell, and not by a lone terrorist. Israeli authorities have arrested several suspects from the Bethlehem area who were allegedly involved in the attack. It has been officially confirmed that the one person killed in the attack, in which 20 people were wounded, is the terrorist.
The Jerusalem Police released a statement Thursday, saying, "Through intensive intelligence and field activity, the Shin Bet, the Israel Police, and the IDF arrested a number of suspects about a day after the attack on the Jerusalem bus – Hamas suspects from the Bethlehem area – who are suspected of being involved in planning the attack and executing it. Their questioning is in progress, and their identities are classified." It was also officially confirmed that the person who was killed in the attack, which also wounded 20, is the terrorist who committed it.

The official statement also said that "it has been cleared for publication that the critically wounded man from the attack, who died at the Shaare Zedek hospital, is the terrorist who perpetrated the attack on the Egged line 12 bus."

"The terrorist, Abd al-Hamid Abu Srur, (who was) about 19 years old, (was a) resident of Beit Jala and affiliated with the Hamas movement, was, as stated, critically wounded during the perpetration of the attack and died of his wounds (on Wednesday) at the hospital. The attack wounded 20 civilians, one of them severely, seven moderately, and the others lightly."

The Jerusalem Magistrate Court approved a request by investigators and lifted the gag order on the case, allowing details that could aid in identifying the suspects to be published.