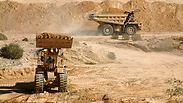 (Archive photo: Quarrey Recostruction Fund)
Future of Palestinian town bleak after Israel shuts quarries
3,500 Palestinians may be out of work after Israel closes three quarries just outside the village of Beit Fajar; COGAT says quarries are operated illegally on state land, but Palestinians claim that they own the land on which the quarries are located.
The future of the Palestinian town of Beit Fajar looks bleak after Israel's military forced the shutdown of some three dozen quarries in the area, endangering 3,500 jobs and paralyzing the dominant local industry.
Palestinian quarry owners and their lawyer say March 21 raids of the quarries by hundreds of Israeli soldiers and the confiscation of millions of dollars in equipment amount to collective punishment. The raids came four days after two Beit Fajar residents stabbed and wounded an Israeli soldier.
The fate of the quarries also highlights Israel's policy of favoring Israeli settlement businesses in the occupied West Bank over those of local Palestinians, the New York-based group Human Rights Watch said Thursday. Israel has not issued new licenses for Palestinian-run quarries in the West Bank since 1994, while giving operating permits to 11 Israeli-run quarries in the area, the group said.
The Israeli-administered quarries produce 25 percent of the quarrying materials for the Israeli and settlement economies, amounting to Israeli exploitation of natural resources in occupied territories in violation of Israel's obligations as an occupying power, HRW said.
"I think Israel wants to strike at the Palestinian economy," said Subhi Thawabteh, head of the Union of Stone and Marble in Palestine. "This is part of the Israeli pressure on the Palestinians. They want us to desert our land and fill it with Israeli settlers."
COGAT (Coordnator Of Government Activities in the Territories), the Israeli military body that deals with Palestinian civilian affairs, did not respond to requests for comment. COGAT wrote to HRW that the quarries operate unlawfully, on state land, and that they pose a safety and environmental hazard.
Roni Salman, a lawyer representing the Palestinian quarry owners, said he believes the raids amounted to "collective punishment of the people of Beit Fajar" for the attack carried out by the two village residents.
Human Rights Watch also noted that a previous raid of quarries by the military came three days after a Beit Fajar resident killed an Israeli woman in a West Bank attack in November.
Asked about the timing, COGAT wrote that the raids were carried out once resources were available and "as per priority."
Quarry owners said troops confiscated equipment in the past, but that the heavy machinery was usually returned after payment of heavy fines. This time, Israel had stiffer demands.
In a letter to HRW, it said that quarry owners will have to pledge to "cease illegal operations." They would also have to reimburse the military for the cost of confiscating equipment and pay retroactive royalties for extracting stones.
Salman, the lawyer, said he is trying to persuade quarry owners to appeal to Israel's Supreme Court to try to challenge Israel's overall policy.
Underlying the dispute is a complex division of the West Bank into jurisdictions — a legacy of failed negotiations on Palestinian statehood on lands Israel captured in 1967, including the West Bank.
Israel retains full control over more than 60 percent of the West Bank, known as "Area C" and home to dozens of Israeli settlements with some 370,000 residents. The rest of the territory, where most Palestinians live, is under varying degrees of Palestinian self-rule.
Beit Fajar, near biblical Bethlehem, is located in autonomous territory, but the quarries are in Area C. Israel argues that the quarries are on state land, a designation critics say has routinely been used to take lands from Palestinians.
Human Rights Watch quoted three Palestinian quarry owners as saying they have repeatedly tried to prove ownership of the land, but have been rejected. Quarry owners also said they repeatedly asked for licenses, but were ignored or turned down.
"This is our land, it's in our village, not in Israel," quarry owner Abdel Moin al-Taweel said this week, after seeing two bulldozers and other heavy equipment confiscated.
Quarries and stone factories are the economic bedrock of Beit Fajar, employing some 3,500 people and producing an estimated $25 million a year.
Sari Bashi, the Israel and Palestine director at HRW, said the latest measures counter recent assurances by the military to facilitate Palestinian economic development.
"Instead, it is choking a Palestinian-run industry in the West Bank, while promoting the same industry in Israeli settlements," she said.