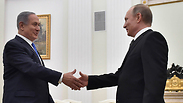 Netanyahu and Putin meet at the Kremlin
Photo: EPA
Prime Minister Benjamin Netanyahu's meeting with Russia's President Vladimir Putin on Thursday was held amid reporters that Russian fighter jets fired at Israel Air Force aircraft on at least two occasions, which were denied by Moscow.

The issues was reportedly raised during Israeli President Reuven Rivlin's visit to Moscow, when Putin claimed this was the first he had heard of it.

Then a few days ago, a Russian fighter jet was scrambled to intercept an Israeli aircraft for an unknown reason. There was no contact made between the planes, and the Israeli plane carried on its way.

Asked about the alleged incidents, however, Kremlin spokesman Dmitry Peskov said: "In this case, Israeli press reports are far from reality."

But Netanyahu, in remarks published by Israeli reporters whom he briefed by phone, said "there have been problems" regarding Israeli military freedom of operation in Syria.

He gave no details, but said: "If you don't deal with the friction, it could develop into something more serious."

"I came here with one main goal – to strengthen the security coordination between us so as to avoid mishaps, misunderstandings and unnecessary confrontations," Netanyahu said ahead of the three-hour meeting with Putin, which focused on the situation in Syria and particularly on its border with Israel.

Putin told Netanyahu that he was happy the two countries were having regular contacts at the highest ranks, and noted the security cooperation between Moscow and Jerusalem was necessary because of the complex situation in the region.

"During the meeting, it was agreed that GOC Air Force Maj.-Gen. Amir Eshel and my Military Secretary, Brig.-Gen. Eliezer Toledano, will hold a special meeting with the Russian Defense Minister and several other generals. They will meet and discuss – in a detailed and efficient manner – the coordination between our militaries and several other issues that have recently arisen," he said following the meeting.

"I think that this is vital because we must maintain freedom of action for the IDF and the air force in places that are important to us vis-à-vis our security, and I think that this was achieved," the prime minister added.

Netanyahu also raised the issue of Israel's northern border with Syria and the Golan Heights, stressing that "we will not go back to the days when they fired at our communities and at our children from atop the Heights. Therefore, with or without an agreement, the Golan Heights will remain under Israeli sovereignty."

The prime minister went on to describe Israel's red lines regarding the Golan. "First, we are working to the best of our ability to prevent the transfer of advanced weaponry from Iran and Syria to Hezbollah in Lebanon. Second, we are working to prevent the establishment of an additional terror front against us on the Golan Heights. These are red lines and we will continue to maintain them," Netanyahu told Putin ahead of the meeting.

The two leaders also discussed the issue of pensions for Russian immigrants to Israel, which Netanyahu described as "a very painful and important issue for tens of thousands of Israelis who have no pensions."

"We agreed that this issue will be finally signed during my visit here to Moscow on June 7, when we mark 25 years of relations between our two countries," Netanyahu said.

Shimon Shiffer and Yair Navot contributed to this report.