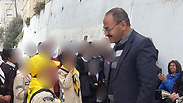 Mohammad Aliyan at the school
A special meeting was held two weeks ago at the Jabel Mukaber elementary school in East Jerusalem between the students and families of Palestinian terrorists who were killed while attacking Israelis.

Amongst those who spoke at the meeting was Mohammad Aliyan, the father of Baha Aliyan, who, along with another, killed three Israelis on a bus in the Jerusalem neighborhood of East Talpiot (Armon HaNatziv), which is adjacent to Jabel Mukaber.

In pictures from the event posted on a Facebook page with the school's emblem, Aliyan can be seen speaking with the children and taking pictures with them. A post on the page praises the terrorists and their families, and thanks the families for their visit.

Family members of Mohammed Ali, who was shot to death after committing a stabbing attack at the Damascus Gate, also participated in the meeting, in addition to representatives from the Palestinian Ministry of Education.

After his son's attack, Mohammad Aliyan launched a commemoration campaign in honor of his son, which included among other things encouraging children to read. During an event held in memory of the terrorist at Al-Quds University in Abu Dis, Aliyan explained that "if the nation isn't educated, it won't be able to confront the occupation. Baha is an idea, and an idea will never die. Today, I have more than 1,000 Bahas. The students will carry out his legacy."

The event at the elementary school was brought to light by the Go Jerusalem organization, which seeks to apply Israeli sovereignty over all the areas of Jerusalem and monitors different Palestinian media organizations.

"The incitement happening in East Jerusalem schools and at informal educational organizations has continued to in full force in recent months," said Go Jerusalem chairman Maor Tzemach.

"I call on the government to deal with this continuing neglect, which is affecting Israeli sovereignty in Jerusalem and adds fuel to the fire of terror."

The Jerusalem municipality responded by saying that the event took place at a private school that isn't regulated by the municipality or the Israeli Ministry of Education. Therefore, they don't have the ability to interfere with what is being taught there.

There are many private schools in East Jerusalem which are not under the purview of the Israeli Ministry of Education, and they receive no funding from the ministry or from the municipality. The Jabel Mukaber school is operated by an association called "Jabel Mukaber" which is funded by Islamic officials.

School officials refused to comment.