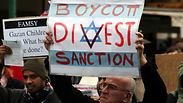 BDS protestors
Photo: Reuters
It has recently come out that the Directorate for the Fight against BDS (Boycott, Divestment, Sanctions) will move its offices from Jerusalem to Tel Aviv.

Deputy Mayor of Jerusalem Ofer Berkowitz said, "(Minister of Public Security) Gilad Erdan purports to deal with de-legitimization and with the global BDS movement, but is actually supporting de-legitimization of Jerusalem. This is absurd. We will fight to change this decision."

Erdan also serves as the minister of strategic affairs and the war against de-legitimization. He was promised a budget of NIS 100 million and 10 staff members dedicated to the fight against the BDS movement, and there have been efforts to fill the senior positions over the past several weeks. The job description says that the job will be in Jerusalem but will soon move to offices in the Tel Aviv area.

This comes in opposition to a government decision not not move the offices from Jerusalem until 2018.

The office will join several other governmental offices in moving to Tel Aviv, such as the Office of the Chief Scientist, the Israeli Digital Headquarters (which is connected to the Prime Minister's Office), and the Emergency Directorate of the Ministry of Communications.

The Deputy Mayor of Jerusalem added, "The government of Israel is continuing to make a separation between what it says about Jerusalem and its actions towards Jerusalem. Instead of strengthening Jerusalem and its economy, the government is taking offices out of Jerusalem, such as this office and the Office of the Chief Scientist."

Erdan responded, "The Ministry of Strategic Affairs and the War against De-Legitimization consists of less than 10 employees and is in the process of hiring more people to fight against BDS. By the end of the process, we expect to have 30 employees in the office. Some of the employees will continue to work in Jerusalem at the Prime Minister's Office, and others will be situated in offices in a building in the center of the country, according to decisions in the Security Cabinet, due to the ministry's work and the need to be in close proximity to other security agencies located in the Israel's center."

The BDS movement has already succeeded in forcing companies such as SodaStream and Ahava to move their operations out of the West Bank and to areas within the Green Line.