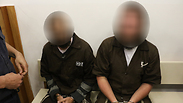 Two of the suspects.
Photo: Shaul Golan
Indictments were filed at the Lod District Court on Monday against members a recently-uncovered alleged Jewish terror cell, suspected of perpetrating terrorist acts and hate crimes against Palestinians. The indictments include violent offenses, weapons charges, and other crimes aimed against Palestinians and their property in the West Bank. The alleged acts were perpetrated in the Gush Talmonim area of the West Bank, near Ramallah. The suspects are accused of committing similar offenses in the 2009-2013 period.
Last week, the Shin Bet revealed that had arrested six suspects, five from the Binyamin area, and one from Kiryat Arba, near Hebron. Three of the suspects are Pinchas Sandorfi, 22, Itamar Ben Aharon, 20, Michael Kaplan, 20. Among them are also two minors, 16 and 17 years old, and an IDF soldier, all of whose identities are under gag order. They are suspected of being involved in security offenses against Palestinians, setting vehicles on fire, assault, and throwing a Molotov cocktail and gas grenade towards inhabited homes.
The Shin Bet claims that a short while after their arrest, the suspects confessed to their deeds, and even reenacted several of the events.
According to the indictment, Jewish extremists perpetrated Price Tag actions across Israel and in the Palestinian territories, which included setting fire to Arab people's property, lobbing gas grenades, illegally possessing weapons, and throwing Molotov cocktails into an unoccupied home. Three of the suspects are accused of illegally organizing, aggravated assault, throwing rocks at vehicles, arson, illegally carrying weapons, causing destruction due to racist motives, defacing lands, and more.
The suspects allegedly perpetrated these offenses in different places across Israel and the West Bank. Their actions were allegedly accompanied by the dissemination of propaganda and provocative publications. These actions included setting fire to property which belonged to Arab people, including cars and homes, and spraying graffiti. All victims were selected due to their national and religious profile. According to the indictment, three of the suspects collected equipment for terror attacks, including military-grade gas grenades, gloves, and spray paint. Suspect number 3 is accused of illegal weapons possession, after an M-16 assault rifle was found in his home, along with ammunition.
A fourth indictment accuses the two suspects who are minors of throwing Molotov cocktails in Mazra'a al-Qibliya, near Ramallah. The indictment states that the two are suspected of filling bottles and bleach containers with fuel, walking to an Arab town or village, and throwing the incendiary devices at an inhabited home. They later allegedly sprayed graffiti on the walls which said "Jews wake up, death to Arabs." The home was damaged but its inhabitants were not hurt.
The Shin Bet and the nationalistic crimes division of the Judea and Samaria District Police claim that the members of the alleged terror cell, who worked together over a long period of time, set fire to a Palestinian vehicle mere hours after the murder of Naama and Eitam Henkin in October. In addition, the group, also known as the Nahliel group, is accused of assaulting a Palestinian in July 2015, and setting fire to a Palestinian vehicle in 2014. In addition, five of the suspects are suspected of throwing a gas grenade towards a home in the village of Bitilu in December.