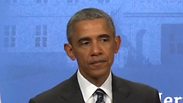 More than four-fifths of the US Senate have signed a letter urging President Barack Obama to quickly reach an agreement on a new defense aid package for Israel worth more than the current $3 billion per year.
Eighty-three of the 100 senators signed the letter, led by Republican Lindsey Graham and Democrat Chris Coons. Senator Ted Cruz, a 2016 presidential candidate, was one of the 51 Republicans on board. The Senate's Democratic White House hopeful, Bernie Sanders, was not among the 32 Democrats.
"In light of Israel's dramatically rising defense challenges, we stand ready to support a substantially enhanced new long-term agreement to help provide Israel the resources it requires to defend itself and preserve its qualitative military edge," said the letter.
It did not provide a figure for the suggested aid. Israel wants $4 billion to $4.5 billion in aid in a new agreement to replace the current memorandum of understanding, or MOU, which expires in 2018. US officials have given lower target figures of about $3.7 billion. They hope for a new agreement before Obama leaves office in January.
The Obama administration wants to cement a new 10-year defense aid deal before he leaves office in January to demonstrate his commitment to Israel's security, especially after reaching a nuclear agreement with Iran that Israel strongly opposed. Obama and Israel's Prime Minister Benjamin Netanyahu have had a tense relationship.
A White House official said discussions with Israel were continuing.
"We are prepared to sign an MOU with Israel that would constitute the largest single pledge of military assistance to any country in US history," the official said.
The funding is intended to boost Israel's military and allow it to maintain a technological advantage over its Arab neighbors.
The letter said the Senate also intends to consider increased US funding for cooperative missile defense programs, similar to increases in the past several years.
Obama has asked for $150 million for such programs, but lawmakers are believed to be willing to send Israel hundreds of millions for programs like its Iron Dome air defense system and the David's Sling medium- and long-range military defense system.