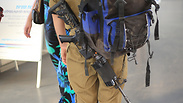 Illustration
Photo: Yaron Brener
A combat soldier from the ultra-Orthodox battalion Netzah Yehuda was sentenced to 17 days in military prison on Monday after cocking his rifle and aiming it at an Israeli Arab in Jerusalem during the Passover holiday.

On Saturday, which coincided with the first day of Passover, the soldier visited Jerusalem's Old City while on leave from the army. He was dressed in civilian clothes and was carrying his rifle with the magazine inserted.

Despite the fact that the soldier was not under threat and there was no operational need for it, the soldier cocked his rifle at an Israeli Arab passerby.

The soldier told the police that he felt nervous and threatened. Police held the soldier for questioning, at the end of which it was decided to hand the investigation over to the IDF's criminal investigation division.

The IDF said the soldier faced a court martial by his battalion commander and was sentenced to jail time after being found guilty of an illegal use of a firearm. The decision on whether to remove him from his combat position will be made after he is done serving his sentence.

This isn't the first incident that involved soldiers from the Haredi battalion. About two weeks ago, soldiers from the battalion burned a Palestinian flag they confiscated from a vehicle. The squad commander was sentenced to 20 days in prison and removed from his commanding position, while another soldier was confined to the base for 28 days.