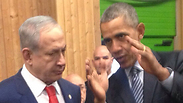 בנימין נתניהו ברק אובמה ג'ון קרי ועידת אקלים פריז צרפת
White House says it will offer largest military package in US history
After 83 US senators send a letter to the White House, urging President Obama to sign a military aid deal with Israel, White House official says, 'We are prepared to sign an MOU with Israel that would constitute largest single military pledge' in US history.
The United States plans to offer Israel the largest military assistance package in US history, according to an Obama administration official.

"We are prepared to sign an MOU (memorandum of understanding) with Israel that would constitute the largest single pledge of military assistance to any country in US history," a White House official told Reuters.

The statement came hours after 83 US senators sent a letter to President Obama, urging him to reach a military assistance deal with Israel.

"In light of Israel's dramatically rising defense challenges, we stand ready to support a substantially enhanced new long-term agreement to help provide Israel the resources it requires to defend itself and preserve its qualitative military edge," said the letter.

The US and Israel have been engaged in intense negotiations in recent months to outline US military aid to Israel for the next 10 years.

In February, Prime Minister Benjamin Netanyahu said he will wait for the next US president to take office, if the military package offered by the Obama administration does not sufficiently address Israeli security concerns, according to Israeli media.

However, Yedioth Ahronoth reported on Tuesday that Netanyahu would like to reach a military deal with Obama, fearing the uncertainty of the next US president's positions.