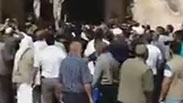 A protest erupted on Tuesday morning on the Temple Mount after several Jews visiting the site began prostrating themselves and began reciting Jewish prayers which are strictly forbidden under current agreements between Israel and the Waqf.

The prayer provoked Muslims nearby to gather around the Jewish visitors and begin chanting "Allahu akbar" and "with our blood we will redeem Al-Aqsa." The Jewish Temple Mount activists claim that they were assaulted by Waqf officials and the Muslim worshippers. While police said that they were not aware of any violent behaviour and that the exchanges were purely verbal, video footage from the incident proved that physical altercations did indeed occur.

Temple Mount clashes

The protesters calmed down after the police ejected the praying Jewish people from the area. Eight Jewish visitors, whom the police claim violated the rules, were ejected from the Temple Mount area. About 250 Jewish visitors have come to the Temple Mount so far, and the police presence on the mount and in the surrounding area has been high, aimed at keeping the sensitive zone's routine intact.

The police issued a response: "During visits to the Temple Mount this morning, 527 visitors including 400 tourists entered (the complex). Eight Jewish visitors who violated visitation rules were removed from Temple Mount's grounds. After the final Jewish visitor group left Temple Mount, Muslims began shouting at the same Jews, who had been removed from the Temple Mount for violating the site's rules. Police officers and Border Police distanced the Jews and took action to prevent disruptions and return order to the site. The police is prepared, as it has been throughout the holiday, to allow all visitors of all religions and ethnicities to practice (their) religion and rituals freely. The police will act decisively against everyone who tries to violate the status quo."

On Monday, the Jordan warned that "serious consequences" could arise from what it described as "the invasion of settler groups and Israeli occupying forces in the Al-Aqsa mosque." Jordanian Minister for Media Affairs and government spokesperson Mohammad al-Momani said that what Israel and the Jewish visitors ascending Temple Mount are doing is acting against Muslim worshippers in the mosque and is a breach of law and international trust.

Al-Momani further demanded that the Israeli authorities immediately stop the visits and prevent the entry of Jews and Israeli security forces to the compound. Moreover, he demanded that Israel allow Palestinian worshippers to enter the mosque and perform their ritual practices.