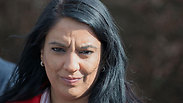 A Labour Party MP is being accused of anti-Israel sentiments after it was revealed that she had expressed support for a proposal to relocate the State of Israel to US territory, thus supposedly solving the Israeli-Palestinian conflict.

Naz Shah, an MP representing Bradford West, wrote the post on social network Facebook in 2014, before she became an MP.

The offending post shows Israel cut into a map of the United States. It purports to give a number of reasons for why the move would be a positive step for Israel, the Palestinians, the US, and the world at large.

MP Shah posted the photo along with the comment "Problem solved."

After the post was revealed, Shah publically apologized, stating that it was written two years ago and does not represent her current views.

The Labour Party has been suffering from repeated scandals lately, as just last month it suspended party member and former MP candidate Vicki Kirby after seemingly-anti-Semitic tweets she posted in 2014 were uncovered. Labour Party Leader Jeremy Corbyn, considered a strong critic of Israel, recently said that there is no place in the Labour party for anti-Semitism, Islamophobia, or xenophobia of any kind.

Update: On Wednesay, Shah was suspended from the Labour Party for the post.