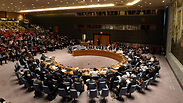 The UN Security Council
Photo: EPA
UNITED NATIONS - The United Nations Security Council on Tuesday voiced alarm over Israeli cities and towns about the Golan Heights on Syria's border with Israel, adding that its status remains unchanged.

Earlier this month Prime Minister Benjamin Netanyahu declared that Israel would never relinquish the Golan Heights, in a signal to Russia and the United States that the strategic plateau should be excluded from any deal on Syria's future. The declaration was condemned by the European Union, the United States, the Arab League and Syria.

"Council members expressed their deep concern over recent Israeli statements about the Golan, and stressed that the status of the Golan remains unchanged," China's UN Ambassador Liu Jieyi, president of the 15-nation Security Council this month, told reporters after a closed-door meeting.

He added that council resolution 497 of 1981 made clear that Israel's decision at the time to impose its laws, jurisdiction and administration in the Golan was "null and void and without international legal effect."

Despite the council's objections, the Israeli foreign ministry reponded in kind saying that "The Security Council's announcement ignores the reality in Syria."

"Who is Israel supposed to negotiate with about the future of the Golan? Islamic State? Al-Qaeda? Hezbollah? The Iranian and Syrian forces which have slaughtered thousands of people? In view of the war raging in Syria and the stability and security of the Golan Heights that Israel has established over nearly 50 years, the suggestion that Israel will leave the Golan Heights unreasonable," the letter continued.

Netanyahu's April 17 declaration came on the occasion of the first Israeli cabinet session on the Golan since the area was captured from Syria in the 1967 Six-Day War and annexed in 1981. But Israel's annexation of the Golan has not won international recognition.

Past US-backed Israeli-Syrian peace efforts were predicated on a return of the Golan, where some 23,000 Israelis now live alongside roughly the same number of Druze Arabs loyal to Damascus.

Liu said the council supported a negotiated arrangement to settle the issue of the Golan.

There is a UN peacekeeping force deployed in the Golan called UNDOF. Established in 1974, UNDOF monitors a ceasefire line that has separated Israelis from Syrians in the Golan Heights since the 1973 Yom Kippur War.

The force has had to pull back from a number of positions on the Golan due to fighting between militants and Syrian government forces in the five-year-old Syrian civil war. Its peacekeepers have been fired upon and captured by militants on several occasions.