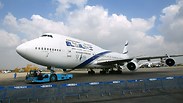 אל על אלעל מטוס נתב"ג תיירות טיסה חופשה
Photo: Getty Images
The Israel Airports Authority and the Israel Civil Aviation Authority (CAA) are expecting more than eight million travelers to pass through Ben Gurion International Airport this summer.

This is a 14% increase in the number of travelers from last summer. The number includes both inbound and outbound passengers, and both Israelis and tourists.

The CAA's numbers show that there will be approximately 670 flights per week from Ben Gurion to destinations worldwide – 90 more than there were last summer – a 10 percent increase.

Another interesting number is the fact that there is expected to be a 40% increase in flights from the summer of 2012, well before the Open Skies Policy was enacted. This number doesn't include charter flights which will fly to destinations throughout Europe.

Due to the Open Skies Policy, the number of flights between Israel and Europe increased by 11 percent, compared to an only eight percent increase in countries which aren't part of the European Union.

It was also announced that several airlines are expected to raise the frequency of their flights to and from Israel. El Al for instance will have 311 flights per week (a seven percent increase), Turkish Airlines will have 63 flights per week (a 12.5% increase), Easyjet will have 42 flights per week (a 10.5% increase), along with a similar number from Russian carrier Aeroflot. Meanwhile, United will have increase its flights by 21% due to a new route from San Francisco, and Ethiopian Airways will increase its operations by 40%.

The CAA report further shows that overall, there will be 91 flights per week between Israel and Istanbul, 60 to Paris, 55 to London, 46 to Rome, and 44 to New York.

Despite the initial worry by Israeli airlines that the Open Skies Policy would lead to the collapse of the airlines, flights for El Al rose 28.5%, Arkia flights rose 44%, and Israir flights rose 111% from the moment the policy was signed. The aggregate market share of Israeli airlines grew from 36% to 39% this summer.

Transport Minister Yisrael Katz said that the Open Skies Policy has led to a growth in the double digits of the number of flights to and from Israel, a number which is only expected to grow larger in the coming years.