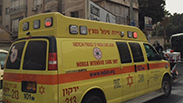 רצח אישה ב רוטשילד פתח תקווה זירת ה רצח אמבולנס
Two Palestinian terrorists Wednesday morning attempted to stab Border Policemen at Qalandiya checkpost north of Jerusalem before being shot and killed by security forces. No injuries were reported.
Two terrorists, one female and one male, attempted to walk through a passage intended for vehicle entry and began speeding up in the direction of Border policemen stationed at the scene. The female assailant had her hand in her bag in which there was a knife. The male assailant's hand was held behind his back which aroused the security forces suspicion.
The police called upon them to stop several times. However they continued to quickly approach in their direction. The police continued to call upon them to stop and throw down the bag the woman was holding. The woman stopped close to the Border policemen, both of them took several steps backwards and then suddenly they turned towards the forces, the woman took out a knife and threw it straight at the policeman closest to her. The policeman was not injured.
The security forces acted quickly and shot them dead.
A search of the area revealed that in addition to the woman's knife, the male had a similar knife in his belt, as well as a pocket knife.
Hundreds of Police and Border Police reinforcements have been deployed to Jerusalem to secure the city during the Jewish festival of Passover. In addition to the Old City, police officers have been stationed in crowded areas and shopping centers. The regular security deployment to Jerusalem and its surroundings has been expanded and security on major roads into the capital has also been increased. Meanwhile, several major roads in the capital will be closed off to vehicles Sunday-Wednesday from 7am to 8pm due to expected traffic.