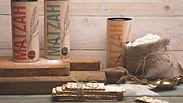 Matzot from Ma Yoffi Ltd.
Asians have discovered the Israeli-made unleavened Passover bread - the matzah - leading many Israeli companies to export it to countries such as Japan and India for the first time in 2016.

Carolyn Nave, the food and beverage manager for the Israel Export Institute, said that the institute works to reach any place that has a Jewish community, noting that every year more and more countries import matzah from Israel.

"Next month, an Israeli food-tasting event will be held in Vietnam," Nave related excitedly. "An 'Israel week' will also be held in Japan next month that will feature matzot. The export of matzot to the Far East is picking up momentum."

Tzvi Tzur, of Tzur Sochniyot, which exports, among other food items, hand-made matzah, explained that "this year there has been an increase of between 10 and 15 percent of matzot exports abroad. There is particularly an increase in demand for the handmade, round, authentic matzot and this represents more than a million dollars a year in exports … most of the export is to the United States, but in remote areas as well, those who want matzot can find them in the big chains."

Roi Wolf, CEO of Matzot Aviv, states that 50 percent of his matzot are exported, mainly to the US, Canada, Australia and Europe, but notes that "for the first time this year, we will be exporting matzot to India. Individuals bought quite a bit of matzot from us and they will distribute them there to whoever requests them."

A noteworthy exporter of matzot is Ma Yoffi Ltd. – Flavor of Israel, founded a year ago by Arkadi Mayufis, who made aliyah from Russia. The company's CEO Nimrod Saltzman expressed hope that Ma Yoffi will begin exporting matzot to the Far East next year.

Ma Yoffi is, in fact, a packaging firm, which has six employees, all of whom speak Russian. Saltzman explained that they "take food products and package them in small packages 200-250 g. Our starting point is that Israel is the land of milk and honey, and we take existing products that represent the Land of Israel, and give them a new design, and thereby give respect to the local product…People come to Israel, and when they come here, they take things home with them, things they consider to be the most Israeli, such as date syrup, carob spread, honeys from different areas in Israel, and matzot, wrapped in a roll of recycled carton."

He recounted that he "recently met representatives of a Japanese company, who were very enthusiastic about our products. During our second meeting we were already discussing operations, how to export our products to Cosco in Japan. There is no doubt that exporting matzot to the Far East is the next big thing, and it's happening here and now."