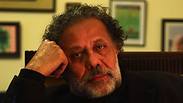 Ilana Romano, whose husband weightlifter Yossef Romano was murdered in the Munich Olympics massacre, refused to appear in a new documentary titled "Munich: A Palestinian Story," which purports to present the Palestinian point-of-view of the attack, because the film director insisted on calling the murderers "freedom fighters," Ynet has learned.
Last year, director Narsi Hajjaj contacted Romano and asked her to participate in his project and present the Israeli side of the story.
Romano conditioned her participation on Hajjaj calling those who murdered the Israelis "terrorists" and not "freedom fighters," but the Lebanese filmmaker of Palestinian origin refused to commit to it.
"Eight Palestinian freedom fighters attacked the Olympic Village in Munich and took 11 Israeli athletes hostage," stated the text accompanying the project which will be screened at a special event highlighting Arabic cinema at the Cannes film festival next month, but not as part of the official program of the festival.
During the conversation between Romano and Hajjaj a year ago, Romano also told the director he could not use their conversations in the film, threatening to sue if he does.
Hajjaj is a veteran filmmaker who grew up in the Ain al-Hilweh refugee camp in Lebanon, where he met Afif Hamid, one of the terrorists who attacked the Olympic village. He studied at the University of Middlesex in London, and directed two films that deal with the Palestinian issue. His first film "Shadow of Absence" from 2007 documented Palestinian graves throughout the Arab world, in an attempt to illustrate how Palestinians born in Israel are now scattered throughout the world. His second film "As The Poet Said" from 2009 deals with the Palestinian poet Mahmoud Darwish.
In "Munich: A Palestinian Story," Hajaj seeks to examine "why this operation was launched?" and notes that "the film will be the first Palestinian documentary on this event, and will shed light on many new facts, documents and people involved in it."
"The film starts in the refugee camps of Ain al-Hilweh and Shatila, in which most of the group's members grew up, and then moves on to the countries where they trained for this operation. Eight films have been made about what happened in Munich, but none are Palestinian or Arab. I wanted to present the Palestinian version of this story, which is not necessarily devoid of criticism of the operation itself and its consequences," Hajjaj concluded.