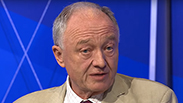 Ken Livingstone
Photo: YouTube
Former London Mayor Ken Livingstone was suspended by his own Labour Party after he sparked an outcry on by claiming Hitler supported Zionism on Thursday.

In a BBC Radio interview, Livingstone was asked to comment on the scandal that erupted after his party member Naz Shah called to "relocate" Israel to the United States, and responded, "It's completely over the top but it's not anti-Semitic. Let's remember when Hitler won his election in 1932, his policy then was that Jews should be moved to Israel. He was supporting Zionism – this before he went mad and ended up killing six million Jews."

He added that, "The simple fact in all of this is that Naz made these comments at a time when there was another brutal Israeli attack on the Palestinians."

The suspended member asserted that there was "well-orchestrated campaign by the Israel lobby to smear anybody who criticized Israeli policy as anti-Semitic."

Livingstone later claimed in an interview with Sky News that he was merely "stating historical facts."

More than 20 MPs called for Livingstone to be removed from the party, including shadow cabinet member Luciana Berger and London mayoral candidate Sadiq Khan.

MP John Mann confronted Livingstone on Thursday morning, calling him a "f***ing disgrace," a "Nazi apologist" and a "disgusting racist."
Watch this. Extraordinary. John Mann MP: You're a disgusting Nazi apologist, Livingstone'. pic.twitter.com/1wlbA1BmND

— Chris Ship (@chrisshipitv) April 28, 2016
This is not the first time that Livingstone has uttered serious anti-Semitic statements. In 2005, he attacked journalist Oliver Finegold, asking him whether he was "a German war criminal." On learning that Mr. Finegold was Jewish, the mayor reportedly said: "You are just like a concentration camp guard, you are just doing it because you are paid to, aren't you?"

Last month Aysegul Gurbuz, 20, a Labour Party councilor, was suspended after saying that Hitler was "the greatest man in history."

On Tuesday it was revealed that Naz Shah, a Labour Party MP, wrote a post on Facebook which expressed support for a proposal to relocate the State of Israel to US territory, thus supposedly solving the Israeli-Palestinian conflict.

After the post was revealed, Shah publically apologized, stating that it was written two years ago and does not represent her current views. She has since been suspended.

On Wednesday she apologized to the House of Commons stating: "I accept and understand that the words I used caused upset and hurt to the Jewish community and I deeply regret that. Antisemitism is racism, full stop. As an MP I will do everything in my power to build relations between Muslims, Jews and people of different faiths and none."