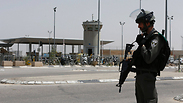 ניסיון דקירה ב מחסום קלנדיה מחבל ו מחבלת נוטרלו
Photo: AFP
Two female terrorists were neutralized on route 443 after attempting to stab soldiers.

The terrorists arrived to the Bell checkpoint with a knife, a syringe filled with an unidentified substance, and suicide notes. The two asked the soldiers on duty for water. However, the soldiers understood that something suspicious was going on, and at that point, the terrorists took out a knife in an attempt to stab the soldiers.

One of the terrorists is currently being treated at Sha'arei Tzedek Medical Center in Jerusalem, and is in moderate to serious condition. The second assailant reportedly attempted to escape, but was later apprehended. None of the soldiers were injured. Palestinian media reports them to be minors.

This comes at the heels of an attempted terror attack at the close by Qalandia checkpoint on Wednesday. In that attempted attack, two terrorists, one female and one male, attempted to walk through a passage intended for vehicle entry and began speeding up in the direction of Border policemen stationed at the scene.

The female assailant had her hand in her bag in which there was a knife. The male assailant's hand was held behind his back which aroused the security forces suspicion.

The police called upon them to stop several times. However they continued to quickly approach in their direction. The police continued to call upon them to stop and throw down the bag the woman was holding. The woman stopped close to the Border policemen, both of them took several steps backwards and then suddenly they turned towards the forces, the woman took out a knife and threw it straight at the policeman closest to her. The policeman was not injured.