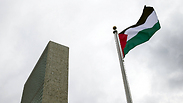 Palestinian flag
Photo: Reuters
Globe Arena, the venue where the annual Eurovision Song Contest is to be held in Stockholm in less than a fortnight, released a document in which it listed flags that may not be waved by the public, including the Palestinian flag.

Globe Arena has forbidden, according to the document and inter alia, flags "containing commercial messages," flags" of political or religious nature, in particular flags of disputed territories," and flags "containing statements in another language than English."

In addition to the explanation, a non-exhaustive list of banned example flags was providing, including the Basque, Crimean, Transnistrian, and Palestinian flags. The flag of ISIS was presented separately with the message, "the below flag is strictly prohibited." Recently, European media has reported that ISIS is planning a terrorist attack at Eurovision this year.




The document, which does not currently appear on the Eurovision website, states that the audience members may wave flags of any of the 42 countries participating in the contest, the EU flag, rainbow flags (provided that it is not waved "politically") and flags of other countries that are members of the United Nations and appear on their website's list. While the General Assembly of the UN recognized Palestine in 2012 as a non-member observer state, this did not include membership in the organization.

In 2009, when (the Jewish) Noa and (the Arab) Mira Awad jointly represented Israel at Eurovision with their song "There Must be Another Way," the audience waved Palestinian flags alongside Israeli ones.

Globe Arena's decision provoked controversy in Eurovision fans who belong to areas whose flags have been banned. One Basque fan was incensed that his flag was in the same list as the ISIS flag, and other similarly displeased people took to Eurovision's Facebook timeline to express their ire.

Spanish politicians expressed outrage at the Basque flag's inclusion in the list. As a result, the organizers of Eurovision 2016 stated that the list was a draft that was not intended for publication.

At this year's Eurovision, Israel will be represented by Hovi Star, who will be singing "Made of Stars."