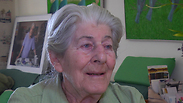 Betty Bausch
Photo: Yogev Atias
Just before Holocaust Memorial Day, 97-year-old survivor Betty Bausch has again packed her suitcase and travelled to tell young Germans of the harm that their nation inflicted decades before they were born. In recent years, this has become her life's work.

Every time that Bausch finishes describing her family's travails in the Holocaust and asks for audience questions, the room is filled with a tense silence that eventually becomes an honest, if painful, conversation between a survivor of the inferno and the grandchildren and great-grandchildren of the those who committed the atrocities.


The purpose of these talks is not to preach morality or to cast blame on those who only know of the Nazi regime from history books. Rather, it is to transfer an optimistic message of hope and faith in humanity, and in applying lessons to today's world to eradicate the racism and xenophobia that exist today in every society.

In honor of the work that Bausch has done, German President Joachim Gauck invited Bausch to meet him in Berlin on April 29.

Bausch's story of survival from the days of the war is extraordinary. Thanks to endless resourcefulness, aid in procuring forged documents, and an Aryan appearance, she managed to hide and live under a fake identity, thus avoiding being sent to a concentration camp.

She was born and raised in Amsterdam, where she had a happy childhood. Like most of the Netherlands's Jews, she did not experience anti-Semitism.

Her parents passed on their religious and Zionist stances to their children. However, they hesitated and didn't use the permits to immigrate to the Land of Israel that they had before the war. When the Germans invaded the Netherlands, it was too late, and they were sent to the Sobibor extermination camp and killed.

Bausch has been speaking for 20 years in the Netherlands and for the past six in Germany. "I always begin by telling the youths about my time at their age, when I was 16 years old," she said, "because I think that it interests them, what I did at their age, and not at 97.

"At that time, we only had one radio, which I would always turn on when Hitler was making a speech. He would say, 'The Jews are the rats of the world and must be destroyed.' When my family heard that, they would say to me, 'Betty, turn it off, turn it off; we don't want to hear it.' I was the only one told them, 'We have to hear it; we have to know what that man wants to do with the Jews. If he says it, he'll do it.' They would answer me, 'No, no, it's just words.'

"This is what I talk about with young people; I tell them that even now they hear it on the soccer field, everything that people say to those of another color; it's still happening."
"In Germany especially, young people ask to speak with me after the lecture."
Bausch, née Polak, had three siblings: Jaap, Juul and Liesje, who were all sent to the Westerbork transit camp in the Netherlands and from there to the Bergen-Belsen concentration camp in Germany. The firstborn, Jaap, survived and built a family in the USA. Their sister Juul died a week after being liberated from the camp. The youngest sister, Liesje, had the good luck to be included in the group of 220 Jews released from Bergen-Belsen in an exchange that returned Templar women and children from the Land of Israel to Germany.

Liesje and Betty managed to keep in contact during the war via postcards that they would send to each other in fake names. Some of their writings are compiled in their book Broken Silence, which tells of their wartime experiences. Originally published in Hebrew, it has been translated into English, German and Dutch. At the end of every talk, a long line forms of youths who ask Bausch to sign their copies.

"At the end of one lecture that I gave in Germany, a boy came to me holding the book in his hand, with tears in his eyes, and he said, 'I came to ask for forgiveness for what our parents and our grandparents did to you,'" Betty recounted. "It was so touching. I asked him to sit down, and I told him that we had to talk about it. I explained to him, 'You cannot take this on your shoulders, because you're in a different world now, and you have another future.'

"After a lecture that I gave in the US, two students came up to me alone, and they told me, 'From today, we're going to change our lives.' That made me very happy; it made the entire trip for me.

"In Germany especially, young people ask to speak with me after the lecture, and that takes time. The adults that invited me want to eat with me and call me, 'Betty, come, we've been waiting for over an hour.' I answer them, 'You'll have to wait, because I come first and foremost for the children.'"

Before the war, Bausch married Philip, a Jew who served as a Dutch military officer. When the Nazis invaded the Netherlands, the couple tried to flee to England, but they were unsuccessful. They hid and lived under assumed identities, forced to spend much of their time separately and only meeting one another in secret.

For Philip, going outside was more dangerous because of his Jewish appearance, but blue-eyed Betty, who spoke fluent German, managed to pass easily from one place of work to another during the war. Had it not been for the good people that she met who helped her elude the Gestapo's grasp, she would have had a different fate.

"I was lucky that people helped me," said Bausch, "and so the important message that I want to give is that all of us need to stand against racism. I see lots of bad things, and young people have the responsibility of doing better than previous generations. Adults are also interested in my lectures, but the young are the most important to me, because they have the future before them. As a Holocaust survivor, I also tell them that as long as they're alive, they need to love living."
The request from the German president
Towards the end of 1944, Philip joined the anti-German resistance in the Netherlands, and when their operations, which included sabotaging a railroad that brought missiles to the Nazi army, were discovered, he was arrested together with Betty. She was released, thanks to her fake documents, and she even received an official stamp from the authorities that stated that she was not Jewish. When she later returned to the jail to find out what had happened to her husband, Betty was informed that Philip had been executed.

At the end of the war, Bausch decided to remain in the Netherlands, where she thrived as she progressed in her career in the Ministry of Agriculture. She was in professional contact with people in Israel, and thus learned Hebrew. She remarried, this time to a painter named Dolf, and the couple immigrated to Israel in 1981. They lived for 28 years in Eilat, as they both enjoyed the local landscape, and Betty was active in the local community.

Today, Bausch lives in the assisted living home Bet Gil Paz in Kfar Saba, and she is again close to her sister, Liesje. Their lifelong bond has remained strong. She frequently visits with her sister's children and grandchildren, who encouraged the sisters to tell their family's story for the first time after years of silence, which led to the title of their book.

Bausch said before her meeting with the German president that she was ready. "We have a full hour to meet, from 11 to 12. They told me that it's a lot," she noted with satisfaction. "When he was in Israel in December, he asked the German ambassador to Israel to organize a meeting for us when I would come speak at schools. I've already prepared what I'm going to tell him.

"In Amsterdam, a new museum about the Holocaust was built, at the place where they took the Jews to Auschwitz and to Sobibor. The museum hasn't yet opened officially, and I, in the name of the Jews of the Netherlands, want to ask him to come inaugurate it."

In addition to the presidential meeting, Bausch has a week packed with meetings, every day in a different city and in a different school. "After the lectures, they ask me, 'Betty, why don't you get tired?'" she shared. "And I answer, 'When I stand before young people, suddenly I get so much energy that I could talk for two hours or even more. But the youths, they really get tired,'" she said with a smile.