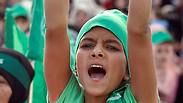 Supporter at hate rally
Photo: Reuters
In a large Hamas rally on Thursday in the Gaza Strip attended by thousands of supporters, Ismail Haniyeh spoke, but a new display of hate attracted the most attention. Directly behind the speakers' lectern was a green bus with the words "Number 12" on it—the same number of the bus blown up this week by a Hamas operative.

A picture of the Temple Mount figured in the background, and during the demonstration, an actor entered a cage where he portrayed a Palestinian detainee surrounded by Israeli soldiers. At the hate rally, at which armed members of Hamas's military wing, the Izz ad-Din al-Qassam Brigades, young women danced, and children watched attentively.




Before the Gazan supporters, Haniyeh complimented the "heroic act" of Abd al-Hamid Abu Srur, who committed the suicide terrorist attack in Jerusalem that wounded 20 other people. Haniyeh warned during the rally of the continuation of the closure on the Gaza Strip. "It's impossible to continue the siege of two million Palestinians in Gaza." Haniyeh addressed Israel: "There's a limit to patience. Don't tighten the noose on the Gaza Strip and don't misinterpret our patience in Gaza."




He emphasized that the establishment of a sea port and airport there do not mean that Gaza is becoming a state of its own. "There is no state in Gaza and there is no Palestinian state without Gaza," he said. He also spoke of the Jerusalem bus attack: "The suicide attack that Abd al-Hamid Abu Srur carried out is proof of the continuation of Hamas's adherence to the solution of opposition. We emphasize with blood, fire and rifle that nobody has the right to stand before the intifada and its people."

The military wing of Hamas warned during the rally that two options were on the table: ending the blockade on Gaza or an explosion.




Three months before blowing up Bus 12 in Jerusalem, the terrorist Abu Srur appeared at the mourning tent for the family of Srur Abu Srur, who was killed in a clash with security forces in Beit Jala in January. In a recording from the tent, he appears masked and wearing a military uniform with a Hamas bandana on his head, reading a message for the family members in on behalf of the military wing of Hamas.

"Blessing to our prophet," he said to those present in the mourning tent. "He taught us to love jihad and martyrdom." Abu Srur continued and glorified his relatives, and noted that he was now in Paradise. The military wing of Hamas released the video clip, and they admitted immediately following Abu Srur's death that he was from their ranks.