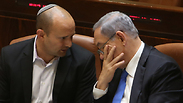 Bennett and Netanyahu
Photo: Alex Kolomoisky
A week after the unprecedented confrontation between Prime Minister Benjamin Netanyahu and Bayit Yehudi Chairman and Education Minister Naftali Bennett during a Security Cabinet meeting and first revealed on Ynet, Bennett addressed the clash on Thursday in a Facebook post in which he clarified that he had no intention of backing down from his position.

"As a cabinet member, I will continue to act with all my strength for the continuation of IDF operations wherever they are required, even if I am scolded or threatened with dismissal. The security of the citizens of Israel is paramount," wrote Bennett.

Earlier in the long post, the education minister wrote, "I learned in Operation Defensive Shield that only when the IDF and the Shin Bet are free to operate, collect information, and thwart terrorism is it possible to prevent horrible terrorist attacks in Tel Aviv and Jerusalem."

The harsh confrontation between the two during the cabinet meeting was centered on Bennett's desire to discuss IDF activities in Area A, to which the prime minister had previously acquiesced. After the education minister saw that this item was not on the agenda, he brought it up to Netanyahu and asked him to keep his word.

Netanyahu disliked Bennett's tone, and the prime minister answered in a loud and angry voice, "You aren't running anything here." When Bennett continued, Netanyahu lost his patience and said, "If you don't calm down, I'll fire you."

The exchange provoked a storm in the political establishment. Those in Likud accused Bennett of behaving rudely and crossing a line, while those in Bayit Yehudi insisted that Netanyahu should not merely threaten, but actually fire Bennett if his political holdings are too far right for the prime minister.