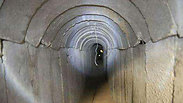 A Hamas tunnel
Photo: IDF Spokesperson
Gaza man indicted for Hamas militant activity, operating smuggling tunnel
Midhat bin-Fauzi Abu Snima faces 18 state security endangering charges, including firing rockets and mortar shells at IDF soldiers and Israeli civilians, planting explosives on the border fence, and smuggling arms into the Strip.
A Hamas operative from Gaza was indicted on state security endangering charges on Sunday at the Be'er Sheva District Court.

Midhat bin-Fauzi Abu Snima, 24, who was arrested over a month ago, faces 18 charges, including contact with a foreign agent, conspiring to commit murder, attempted murder, conspiring to pass along sensitive information to the enemy with the intention to harm state security, undergoing illegal military training, membership and activity in an unlawful organization, and several weapons offenses.

The indictment provides a glimpse into the recruitment and training process of the Hamas military wing, the Izz ad-Din al-Qassam Brigades, as well as into the thriving smuggling tunnels business between the Gaza Strip and the Sinai Peninsula.

According to the indictment, Abu Snima joined Hamas in 2007 and operated along with others to harm IDF soldiers, as well as Israeli civilians, on the Gaza border. The defendant carried out observations of military targets in the Gaza border area, tracked the movements of IDF troops, and planted explosive devices against IDF jeeps, with the intention of causing the death of IDF soldiers.

In 2012, after the end of Operation Pillar of Defense, Abu Snima and others launched rockets at an IDF post and fired mortar shells towards the Kerem Shalom Border Crossing.

In addition, Abu Snima participated in Hamas's military training, trained with different kinds of weapons, and underwent both theoretical and practical training in sniping, among others.

The indictment details Abu Snima's training period, which began in 2009 when he underwent a month-long military training for beginners with the Izz ad-Din al-Qassam Brigades. During the training period, the defendant, along with 30 others, underwent physical fitness training, learned how to take apart and reassemble a weapon, trained in shooting, learned how to camouflage himself, and more. He also underwent an advance course on operating a PK machine gun, used to fire at jeeps with a light armor, civilian vehicles, and low-flying aircraft.

The defendant was also a joint-owner of a smuggling tunnel, which brought him a good profit. For his share of the tunnel's ownership, he received a monthly pay of $2,000.

In 2014, Abu Snima bought a share in a smuggling tunnel for $7,000. The tunnel, running from Rafah in Gaza to the Egyptian Rafah, was one kilometer long. The tunnel was destroyed at the end of last year by Egyptian forces flooding it with water.

From 2014 until it was destroyed, the defendant and his partners smuggled military uniforms for Hamas's commando unit, as well as weapons including three bags of AK-47 (Kalashnikov) rifles (each with some 30 rifles), 10 boxes of ammunition and some 35 pipes weighing a total of 50 kilograms used in the manufacturing of rockets.