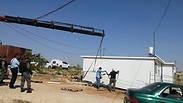 Civil Administration at Khavat Gal
Photo: TPS
An IDF officer filed a complaint with the police on Sunday, claiming he was attacked by Jewish settler youth when he arrived at the outpost of Khavat Gal near Hebron with his team to survey illegally-built structures.

The officer, who serves as the Israeli Civil Administration's infrastructure officer, said the attackers pushed him and called him a "gentile" and a "dog." He was unharmed in the incident.

A police patrol car arrived at the scene, and the Judea and Samaria District Police opened an investigation into the incident. No suspects have been arrested at this time.

Meanwhile, the residents of Khavat Gal, which is near Kiryat Arba, claimed that that the Civil Administration was "initiating provocations targeting us."

The Nahala Movement, which supports the settling of Jews in all areas of the Land of Israel, said that "at 1:25pm, two men in civilian clothing came to the neighborhood, which is located east of Kiryat Arba, and started walking around a house being built there. The construction workers asked them who they were and why they were there, but they didn't answer and refused to identify themselves. Several minutes later, one of them began taking work tools worth thousands of shekels, without any warrants or identification. The construction workers objected to that, and a minor confrontation broke out. It was then that the two rushed to call the police.

"Later, the Civil Administration issued a statement to the press according to which uniformed officers were attacked. The photos clearly show them in plain clothing."

The movement further said that "after the Civil Administration forces were done loading their truck with construction materials from the house, they took additional equipment from the yard of another house, which was built five years ago, doing this with no explanation other than 'We are doing what we see fit.'"

Finally, the Nahala movement stated that Khavat Gal was an approved neighborhood of Kiryat Arba and that the house in question was apparently "built outside the building line."

The Civil Administration is the Israeli governing body that operates in the West Bank. While formally separate, it was subordinate to the IDF and the Shin Bet.