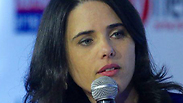 Minister of Justice Ayelet Shaked
Minister of Justice Ayelet Shaked announced Sunday that she plans on promoting the "Norms Bill," which aims to give the same legal rights to settlers living beyond the Green Line as Israeli citizens living within it.

If approved, the law would in effect apply Israeli law to Jews living in the West Bank, widening the gap between the settlers and the Palestinians, who abide by Israeli military law.

Prior to discussing the bill at Israel's Ministerial Committee for Legislation, Shaked gave a speech on Sunday in front of the Legal Forum of Israel, saying that "conditions need to be equal. There are basic laws that do not apply in Judea and Samaria. It is my goal to equalize conditions within one year, either by a GOC (General Officer Commanding) decree or through legislation."

During Netanyahu's last term, a "Norms Bill" wishing to apply Israeli law to the West Bank was brought before the Ministerial Committee for Legislation by MKs Orit Strook and Yariv Levin. Due to the objections of then-Attorney General Yehuda Weinstein, Netanyahu suspended the move, and it remained that way until its recent reintroduction.

At present, Israeli law states that any legislation passed in the Knesset will take effect in the West Bank through a GOC decree. The bill states that as a result, the hundreds of thousands of Israelis living beyond the Green Line live their lives not according to laws passed by the Knesset, but according to decrees issued by the GOC Southern Command. It further claims that many essential laws concerning such matters as medicine and rescue services, accessibility for people with disabilities and laws regarding the environment do not apply to these regions. Those promoting the bill stated that its purpose is "to allow normality in Judea and Samaria, as a step toward creating equality among all Israeli citizens throughout the country."

During her speech, Shaked added that "it is important that the minister of justice hold political power and ability," reiterating her opinion that the Israeli High Court deals in matters that "it should not be dealing with, settling disputes that should be resolved through policy making."

Shaked disclosed that she has spoken to former Chief Justice Aharon Barak regarding the possibility of signing in a basic law that would allow the Knesset to circumvent rulings made by the High Court, adding that at present there is a disagreement over the size of the MK majority that should be needed in order to pass legislation that bypasses the High Court's decisions.