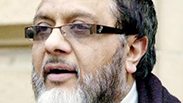 סאלים מולה יצא נגד ישראל מאחורי דאעש ראש העיר לשעבר בלקבורן לייבור
The anti-Semitism dispute bedeviling Britain's Labour Party ahead of an election Thursday has continued with the suspension of two city councilors.
The party said Monday that Nottingham City councilor Ilyas Azis and former Blackburn mayor Salim Mulla have been suspended pending an investigation. Aziz had suggested on Facebook that it might have been wiser to create Israel in America and that Israel could be relocated "even now," while Mulla accused Israel of being behind the Paris attacks and the killing of Japanese prisoners held captive by ISIS on his Facebook page.
The move follows the suspension last week of two other Labour figures, including former London Mayor Ken Livingstone, who was on the party's executive council.
The issue flared up last week whenLabour legislator Naz Shah was suspended for posting anti-Israel material before she was elected to Parliament. That prompted former London Mayor Ken Livingstone to defend her by saying that Nazi leader Adolf Hitler had been a Zionist early in his political career.
Livingstone was quickly suspended from his role on the party's executive council, but his provocative comments led Labour party leader Jeremy Corbyn to set up an independent review of anti-Semitism and other racism within the party, which was soundly defeated in last year's general election by Prime Minister David Cameron's Conservatives.
Senior Labour Party figures are fighting back against charges there is anti-Semitism in the party's ranks ahead of Thursday's vote for a new mayor of London.
Labour legislator Diane Abbott said Sunday the party is being smeared by its political enemies while union leader Len McCluskey said the controversy is being exploited by Labour's rivals.
Labour's mayoral candidate Sadiq Khan has conceded the anti-Semitic issue has made his election campaign more difficult in the final days before the vote.