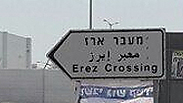 Erez Crossing
Photo: Yoav Zitun
Israel plans to reopen a second border point for commercial traffic into the Gaza Strip, an official said on Monday, a step in gradually easing the blockade imposed on the enclave since 2007.

The decision to allow trucks through the Erez terminal on Gaza's northeastern tip was taken in recognition that a truce that ended the 2014 war against Hamas is holding, the official said.

Israel says its blockade prevents the movement of militants and stops construction materials that could be used by Hamas to make bunkers and tunnels.

Israel halted commercial traffic through Erez in 2000 after the second Palestinian intifada erupted, and only passengers in transit have been allowed to go through.

The official said details of the reopening were still being worked out, and gave no implementation date: "It won't be today or tomorrow."

Regional powers Egypt and Turkey also have a close interest in what happens in Gaza. Egypt, on Gaza's southern border, has helped Israel maintain the blockade deeming Hamas a threat. Turkey has said improving relations with Israel is dependent on the blockade ending.

The official said the decision was mainly aimed at reducing pressure on the sole crossing point currently handling commercial traffic, Kerem Shalom in southeastern Gaza, as well as reducing truck traffic on Israeli roads leading to it.

But the official added that Israel "has an interest in Gazans living in dignity - both on a humanitarian level, and because it helps preserve the quiet, in parallel to the security deterrence that exists. It is good for both Gazans and for us."

Erez will eventually handle at least half of the around 600 trucks that go through Kerem Shalon daily, the official said.

Asked whether the new measure could herald an overall increase in exports to Gaza, the official said, "No problem, to the degree that it depends on us," meaning that the border could be closed again in the event of Palestinian attacks.

Gaza is home to 1.95 million Palestinians, 80 percent of whom are dependent on aid, according to the United Nations.

Economists say the current levels of imports have been enough to maintain basic living standards but not to generate recovery, and unemployment has spiralled from 28 percent to 43 percent since the 2014 war.

"Gaza needs cement, all kinds and sizes of lumber, raw chemicals, iron for metalworks, all of which have ceased completely," said Mahed Al-Tabbaa, a Palestinian economist.

"What counts is whether Israel will allow the banned goods to enter Gaza, not an increase the number of trucks carrying the already permitted list of goods."