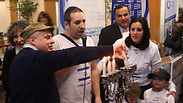 New immigrants arrive from France
Photo: Motti Kimchi
People love to say that Netanya is the "capital of France" in Israel and that Ra'anana has been taken over by English speakers. But do olim (immigrants) from certain places really tend to come together to settle in one specific area? And how many olim live in Israel's cities?

For the first time, the Ministry of Immigrant Absorption has released data that shows how the new immigrants are dispersed throughout the country, and which city was attractive to olim from specific countries. The numbers don't include returning citizens, nor do they include children born in Israel to new immigrants.

Leading the list of cities preferred by olim is Jerusalem, even though the city itself suffers from negative growth.

Since 2001, 34,000 olim have moved to the capital, with about half coming from the US and France.

Tel Aviv is in second place with 27,000 immigrants, of which 8,800 came from former Soviet Union, 5,200 from France, and 4,400 from the US.
Is Netanya French or Russian?
The city of Netanya absorbed 9,800 French olim in the past 15 years. However, a similar number from the former Soviet Union also immigrated to the city. Olim from other countries are barely represented in this seaside town.

Daniel and Solange Yifrach moved to Israel last December following the wave of terrorism which hit Paris. The couple have two sons in their 20s and a younger daughter. According to Daniel, the decision to move to Netanya was simple.

"I visited Israel many times before we made aliyah (immigrated to Israel)" he said. "In Netanya, we have friends and family, and it's a wonderful city in our opinion. There's a beautiful beach and a lot of opportunities for French speakers. We were debating between moving to Netanya, Jerusalem, or Eilat. But we already know Netanya and we know how to get by here, so the clear choice was here."

"We're close to retirement age," he continued, "and we prefer to live in a large seaside town where we already have friends and family. We got exactly what we expected from the city. We feel like we're always on vacation, especially due to the city's touristic nature."
Argentinians favor Be'er Sheva
Farther down the list, one finds Haifa, the city which absorbed the most new olim from the former Soviet Union over the last 15 years. Out of 21,000 new olim to the city, 15,000 are from the former Soviet Union.

Ashdod, Bat Yam, Petah Tikvah, Be'er Sheva, Ashkelon, and Rishon LeZion are cities which also have high percentages of new olim coming from the former USSR. However, there has also been a sharp increase in new olim from France going to Ashdod, almost 1,000 Argentines moving to Be'er Sheva, and a large number of Ethiopians moving to Petah Tikvah and Rishon LeZion.

Ra'anana has turned into a popular city for immigrants from France and the US to settle. According to Rachel Solomon Ringler, who made aliyah with her husband and daughter, they did serious "market research" before they decided to move to Ra'anana.

"My husband checked several cities, including Modi'in, Petah Tikvah, and Hashmonaim. What led us to Ra'anana was the city's character and the quality of its schools. The fact that there are a lot of Americans and South Africans in the city also helped us make the decision," she said.

Ringler continued, "We learned about the city on the internet, and I feel like we have everything we need here. Also, it really helps that almost everyone here speaks English."

Did you get any information on the different cities before you made Aliyah?

"We got here through Nefesh B'Nefesh, and they explained every city to us. But, of course, the final decision should be made by the immigrant after they do a thorough check of their needs and what each city can provide. I think it would be great if there could be someone from the municipality who would be responsible for the new immigrants, and would help us solve the problems we encounter."
Olim love Eilat
A relatively surprising city on the list of cities immigrants flock to is Eilat, which absorbed 3,200 olim in the last several years. The majority of new immigrants coming to this city are French as well.




There's also a sizeable population of people from Argentina and North America who live in the city. One of them is Aviva Vogel from the US, who arrived in the city with a Masa Jewish Agency program.

Masa programs give young people the chance to live and either study or work and intern in Israel for an extended period of time. Many people use this program as a test period to decide whether or not Aliyah is right for them.

Aviva decided to move to Eilat after she got a job offer in the city.

"I love Eilat for what it is," Vogel said. "It's small, but with great views and weather that kind of reminds me of Florida. I think that Eilat is a great place for new olim because it's relatively cheap to live here, and there's everything you need here. I don't know if I'll stay here long term, but as a place to start out as a new immigrant, I think it's great."

Other cities which should be noted for their high levels of olim are Modi'in-Maccabim-Reut which took in 1,300 olim from the US; Kfar Saba, where hundreds have Ethiopians have moved, and Givat Shmuel which also has a high percentage of olim from the US and France.