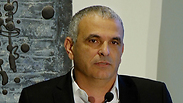 Finance Minister Moshe Kahlon
Israeli Finance Minister Moshe Kahlon announced plans on Monday to increase annual financial support for Holocaust survivors and elderly welfare recipients by a half-billion shekels in advance of the country's Holocaust Remembrance Day on Thursday.

"Unfortunately, previous Israeli governments have not done enough on behalf of Holocaust survivors…the program is focused on pushing elderly Holocaust survivors over the poverty line," Kahlon said during the annual Knesset event celebrating the defeat of Nazi Germany. "In addition, there has not been enough done for the economically-disadvantaged elderly population—increasing their benefits was one of our conditions for entering the government."

The new plans will benefit 60,000 survivors living below the poverty line and will add NIS350 million earmarked for elderly welfare recipients.

"Two days from now, on Wednesday evening, we will enter Yom Hashoah (Holocaust Remembrance Day), as we do every year," Kahlon said. "As the years pass, we see a decrease in the number of Holocaust survivors in Israel. However, what is not decreasing is our desire to listen to their stories, which are an inseparable part of the country's founding, as well as our desire to enable them to grow old with dignity"

Government funds towards survivors have increased in recent years, according to Aviv for Holocaust Survivors, an NGO dedicated to informing the Israeli survivor population of updates regarding grant allocation and changes in government policy.

"We believe that in 2016 there are not supposed to be any poor survivors—this is the last opportunity to help Holocaust survivors and that's why everyone is trying to help," said Aviva Silverman, CEO and founder of the organization, in an interview with Tazpit Press Service (TPS). "It's hard to say what impact and influence the project will have, but we truly embrace and treasure every and any kind of support and change. Any benefit given is a blessing."

The median age of survivors in Israel is 82, Silverman said, and many survivors need assistance in understanding and applying for these benefits.

"The main problem is that because there are so many changes and announcements, the Holocaust survivors are not aware of many of the benefits they can enjoy," Silverman told TPS. "Our job is to inform them and help them apply for these benefits."

Reprinted with the permission from the Tazpit News Agency.