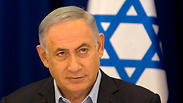 Prime Minister Benjamin Netanyahu
Photo: AP
A recently submitted bill to limit the tenure of the prime minister of Israel which will be up for discussion and a vote in the upcoming summer session is causing a commotion within the Likud party.

Ynet has learned that senior Likud officials are working behind the scenes to allow the law to pass, at least in a preliminary reading at this point. Prime Minister Benjamin Netanyahu is trying to thwart any possibility that the law will receive a majority backing.

Likud officials said that Netanyahu, serving a fourth term in office (currently his third consecutive term), is opposed to the law, among other things, due to the message it sends concerning his current position. If approved, the law will probably not be applicable to the incumbent prime minister, "but saying that two terms as prime minister is enough is directed first of all at him," a senior Likud official stated. If the bill passes its current form, Netanyahu could serve six terms as prime minister in all. Nevertheless, he is prepared to fight the proposal.

The opposition is working in a coordinated manner to pass the law, and now it turns out that there are those in the governing coalition who wish to see the law passed. Coalition officials related that in recent days Likud officials have expressed in private conversations their belief that it is a good law that should be passed.

MK Oren Hazan (Likud), who at the moment is the only Likud MK willing to openly state it, told Ynet that "already at the beginning of my term I said I was in favor of limiting the tenure to two terms. Given the reality in Israel, there needs to be a reinvigoration and the adjustment of the length of service to two terms, provided that they are full tenures. It is impossible to constantly look up to the American model but when it comes to the most important issue – a demanding job that requires freshness and vigor - suddenly decide that that model does not fit. We simply must limit the length of (the prime minister's) tenure in Israel."

The bill was initiated by Zionist Union faction chairwoman, MK Merav Michaeli, and it was signed by all the chairmen of the opposition parties. The law in its current version would be applicable as of the 22nd Knesset (the current Knesset is the 20th), and theoretically it could prevent Netanyahu from remaining in office in another two elections. But according to officials, it is not impossible that there will be those who try to introduce changes during the legislative process. Also because of this, Likud officials say that Netanyahu intends to due his utmost to prevent the law from passing.