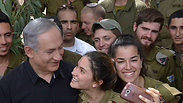 Netanyahu meets with soldiers on the Gaza border
Photo: Amos Ben Gershom, GPO
Prime Minister Benjamin Netanyahu toured the Gaza border on Tuesday, his first visit to the area since the discovery a few weeks ago of a new Hamas tunnel burrowing into Israeli territory.

The prime minister, who was accompanied by Defense Minister Moshe Ya'alon, IDF Chief of Staff Gadi Eisenkot, GOC Southern Command Eyal Zamir, and the Gaza Division commander, was briefed about the tunnel and the other threats Israel faces from the Gaza Strip.

After their tour of the border and a visit to the tunnel entry, Netanyahu and the senior defense officials convened for a meeting at the Gaza Division.

The prime minister also met with soldiers from the 51st Battalion and with IDF lookouts serving on the border. Netanyahu told the soldiers that the past two years have been the calmest the area has known in many years.

The discovery of the tunnel was cleared for publication about two weeks ago, after many days of extensive IDF activity in the area.

The tunnel was found using advanced technological measures, and defense officials say it was constructed before Operation Protective Edge. It was not used during the 2014 operation, but Hamas bolstered it following the war.

Nevertheless, this was the first Hamas tunnel found since the 2014 war in Gaza that crosses under the border fence into Israel.

The IDF destroyed 33 tunnels during the operation. Overall, Israel has invested NIS 600-800 million in combat the tunnels before the operation, and an additional NIS 600 million following it. The IDF handles the tunnels on several levels: Engineering, operational, technological and intelligence.

The opening of the tunnel was found on the Israeli side several dozens of meters from the border fence, in an area under the jurisdiction of the Eshkol Regional Council, but not near any of the communities in the council.

The tunnel was meant to be used by Hamas's elite Nukhba commandos to commit a strategic attack on Israeli communities by the border.

Work on the tunnel seemed to have progressed faster than in the years prior to Protective Edge, which indicates the terror organization has learned its lessons and made an unprecedented investment of millions of shekels in the underground terror tunnel. The depth of the tunnel - some 30 meters underground - is also considered unusual.

However, in many other ways the tunnel is similar to those discovered before and during the operation, including reinforced concrete walls, tracks, internal depth and smaller tunnels branching out of the main tunnel.

A senior official in the Southern Command said Hamas has 800 men digging its tunnels, who are enjoying high salaries compared to other employees in the organization. The official noted the Hamas military wing's commander, Mohammed Deif, views the tunnels as the Izz ad-Din al-Qassam Brigade's flagship project.