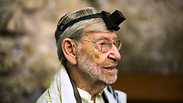 One of the survivors at the Kotel
Photo: GettyImages
Holocaust survivors celebrate Bar Mitzvah at the Western Wall
50 survivors arrived with their families to the Kotel to celebrate their coming of age, something they could not do during WWII; 'Back then, I didn't know I was supposed to be celebrating,' said Itzhak Reznik. 'All I wanted to do was survive.'
A few days before Israel marks the annual Holocaust Remembrance Day, 50 survivors, whose 13th birthday and lost youth had passed many years ago, finally got to celebrate their Bar Mitzvah on Monday at the Western Wall.

Together they were called up to the Torah, laid tefillin and even got a barrage of candy thrown at them by excited family members.

Among those celebrating was Itzhak Reznik, a Holocaust survivor from Lithuania. Reznik was eight years old when his parents and siblings were taken and killed in the Ninth Port of Kaunas.



Reznik came to Monday's ceremony accompanied by his family, and wrapped in a prayer shawl, he walked arm in arm with his grandson toward the Western Wall. "Am Israel Chai," he said, overcome with emotion.

"I never had a Bar Mitzvah," Reznik told Ynet. "So when they approached me with this, I really wanted to do it. I love my religion and feel very connected to it. My parents were religious, but by the time I turned 13, I didn't know I was supposed to be celebrating. All I wanted to do was survive."

Reznik and the other survivors spilled a great deal of tears throughout the day. "For me, victory means celebrating my Bar Mitzvah in Israel with my grandchildren. It's a victory for the entire Jewish Nation, which is very much alive."

Reznik's grandson, Yakir, had celebrated his own Bar Mitzvah at the Kotel 16 years prior. "We didn't know Grandpa never had a Bar Mitzvah," he said. "Even though we knew he was a child during the war."

All of the participating survivors are residents of Kfar Saba. The Mayor of Kfar Saba, Yehuda Ben-Hamo, spoke at the event, saying that "this celebration is twice as moving for happening on this week. Though 70 years late, we have come to celebrate the Bar Mitzvahs of those who have survived the Holocaust. Today we made a dream shared by the 50 participating survivors come true."

Social Equality Minister Gila Gamliel also took part in the ceremony, which was sponsored by the ministry and the Western Wall Heritage Foundation. "The main purpose of this moving event was to give these heroes a moment of their childhoods back that had been stolen from them by the Nazis," said Gamliel. "Their being here today is the greatest victory the Jewish Nation has achieved in all of its thousands of years of existence."

Kotel Rabbi Shmuel Rabinovitch also congratulated the participants. "Events such as this point to the deep connection between the People of Forever to its heritage, regardless of time or place. It is our duty to remember the past and to pass on that knowledge to future generations."

Since its inception in 2012, about 3,600 Holocaust survivors have participated in the event, 1,100 of them having missed their Bar Mitzvah during the time of the Holocaust.