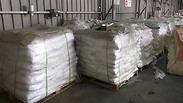 Four tons of ammonium chloride found in at Nitzana crossing on its way to Gaza
Israeli authorities thwarted the smuggling of four tons of ammonium chloride, a chemical used as rocket propellant for long range rockets, which was on its way to Gaza in bags of salt, it was revealed on Tuesday.

The chemicals were caught at the Nitzana border crossing by customs officials in cooperation with the Shin Bet. The Nitzana crossing is the main goods crossing between Egypt and Israel.

A week before the Passover holiday customs officials were inspecting a shipment of 40 tons of salt bound for the Gaza Strip. After a cursory check of the salt aroused the suspicions of the customs officials, a more thorough search of the materials uncovered four tons of ammonium chloride, enough to produce propellant for hundreds of long range rockets.

Ammonium chloride is listed as a dual-use product, and bringing it into the Strip requires special clearance. The Shin Bet's suspicions were aroused when they saw the massive amount of salt being sent to Gaza. Salt is typically used to smuggle chemicals into the Strip, especially chemicals used in rocket production.

The Gazan importer is known to Israeli authorities, and is known for having close ties to Hamas's military wing, the Izz ad-Din al-Qassam Brigades.

"This case underscores the activity of Gaza-based terrorist organizations in smuggling dual-use materials disguised as goods destined for the civilian population and reconstruction projects," a statement by the Israel Tax Authority said. "The security establishment and the Israel Tax Authority customs view the incident with utmost gravity. It is their intention to continue to locate and thwart attempts to smuggle in dual-use materials and deal with those involved to the fullest extent of the law.

"It should be noted that cooperation between customs authorities, especially personnel at the land crossings, and the Shin Bet has led to the foiling of dozens of attempts to smuggle items and materials that are prohibited from importation into the Gaza Strip – such as sulfuric acid, diving suits, rocket propulsion fuel components, polyurethane, sulfur, fiberglass rolls and specially coarse coal for use in iron smelters and metalwork – and which are suspected of being for use by local terrorist organizations."