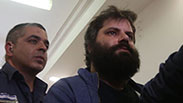 Yosef Ben-David
Photo: Gil Yohanan
Yosef Ben-David, who was convicted of the kidnapping and gruesome murder of Palestinian teenager Mohammed Abu Khdeir, was sentenced on Tuesday to life (25 years) and a cumulative punishment of an additional 20 years in prison.
Abu Khdeir's murder sparked a wave of terrorism in Jerusalem. Ben-David and two minors, who were both convicted for their role in the murder, abducted the 16-year-old teenager and killed him after the funeral of the three Jewish teens Gil-Ad Shaer, Naftali Frenkel and Eyal Yifrach, who were kidnapped and murdered on June 12, 2014. A day earlier, the three defendants tried to kidnap seven-year-old Moussa Zaloum while he was walking down the street in Beit Hanina with his mother and two brothers.
The Jerusalem District Court also ordered Ben-David to pay NIS 150,000 in compensation to the Abu Khdeir family, and NIS 20,000 to Moussa Zaloum.
Shortly before his sentencing was announced, Ben-David apologized to the Abu Khdeir family for the first time, saying "Everything that happened was out of my control. It's not my character and not who I am. I apologize and ask for forgiveness."
Ben-David further noted that "in the past, I worked for ZAKA, I collected the remains of both Jews and Arabs. I've always sanctified human life and honored the dead."
Ben-David, 30, was convicted last month of the murder in July 2014 after a November court ruling found him responsible for his actions, but did not convict him because of a previous psychiatric assessment presented by his attorneys that questioned his sanity.
Abu Khdeir's father Hussein said the sentence was not enough, "We want him to stay in prison for the rest of his life and die there."
Members of the Abu Khdeir family who were at the sentencing hearing called out "death sentence" at Ben-David, adding that he's a "murderer," "racist," and "trash."
The Abu Khdeir family's lawyer, Muhand Jabariya, said he submitted a request to Public Security Minister Gilad Erdan to consider destroying Ben-David's house, as is commonly done by Israel as an act of deterrence against Palestinian terrorists.
The prosecution welcomed the sentencing, saying "Every person, of every religion and race, ought to know that if he commits such acts - whatever the ideology he claims to act in the name of - the law enforcement system will bring him to justice."
The prosecution initially sought an unusually harsh punishment of 60 years imprisonment: 12 for the kidnapping of Moussa Zaloum, 20 for the kidnapping of Mohammed Abu Khdeir, and three additional year for setting fire to vehicles.
Prosecutor Uri Korev from the Jerusalem District Attorney's Office stressed that unlike his two accomplices, Ben-David has not taken responsibility or expressed remorse for his actions.
"This is a man who dragged his relatives into committing a kidnapping and a murder of an innocent teenager. A man who committed incomprehensible and revolting acts. We didn't hear any remorse from the defendant. He committed these acts out of barbarous motives of revenge, and he's placing the responsibility for the acts on his accomplices, who are minors, and claims he is being falsely accused."
Ben-David's attorney, meanwhile, argued for diminished responsibility for his client due to the defendant's mental state.
According to the conviction, in the late evening hours of July 2, 2014, Ben-David and the two minors, after making preparations and equipping themselves in advance, headed out to commit the "revenge attack" in memory of the three yeshiva students.
They searched for a suitable victim for three hours in the neighborhoods of Wadi al-Joz and Beit Hanina in East Jerusalem until, around 4am, they saw Mohammed Abu Khdeir on his way to the mosque for morning prayers.
After snatching him, and while driving towards the Jerusalem forest, the two minors held onto Abu Khdeir, who struggled and tried to free himself, leading Ben-David to order one of them: "Finish him." The minor then strangled Abu Khdeir, until the latter lost consciousness.
When they reached the Jerusalem forest, one of the minors angrily told Ben-David that they "were doing all the work," following which Ben-David took a crowbar and started hitting Abu Khdeir with it, yelling "This is for the Fogel family, this is for Shalhevet Pass" (victims of terror attacks perpetrated by Palestinians -ed.) until the Palestinian teen started bleeding from his head. Ben-David also kicked Abu Khdeir several times while yelling "This is for Gil-Ad, Naftali, Eyal."
The three then set Abu Khdeir on fire while he was unconscious, and then fled the scene. They destroyed the evidence at Jerusalem's Sacher Park, and then went to Ben-David's home, where they played guitar and then went to sleep.
"The fact that the defendant searched for a victim, along with defendant 2, on the first night, and did the same on the second night, is indicative of his ideologically-motivated determination and conscious decision to take revenge, rather than uncontrollable obsession," the court said in its ruling. "The defendant was in control of all of the acts; he spurred others and encouraged them, and reacted rationally to everything that occurred. He gave instructions, and in the critical moment, when the victim was lying on the ground and breathing his final breathes, he kicked him and proclaimed the motives to this act of revenge."