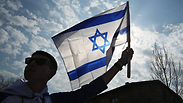 Last year's march of the living
Photo: EPA
Some 10,000 participants from 40 different countries, many of them teens and youths, made the three-kilometers-long journey from the Auschwitz extermination to Birkenau as part of the 28th annual March of the Living on Thursday afternoon.

Ahead of the march, the Jewish Quarter in the city of Krakow was filled with thousands of teenagers, both Jews and non-Jews. Over the past week, the march's participants visited Jewish cemeteries and synagogues, the Zgody Square from which the 64,000 Krawkow Jews were sent to the death camp, ghettos, monuments and extermination camps. All groups are escorted by local tour guides, history experts and Holocaust survivors, allowing participants to not only witness the destruction caused by the Holocaust, but to also hear from people who lived through the atrocities committed by the Nazis.

Participants from Israel, as well as the US, Canada, Britain, France, Morocco, Australia and Japan, among many other nations, took part in the march, which is done in memory of the marches of death during World War II, during which long columns of prisoners were forced to walk great distances under heavy guard and in inhuman conditions. Many of them were murdered on the way or died of exhaustion or diseases.

The march, which began at 1:30pm local time (2:30pm Israel time), reached the gas chambers in Birkenau at around 3:30pm local (4:30pm Israel time), where all of the different delegations will come together to hold a memorial ceremony.

Over 220,000 people from 52 countries have participated in the March of the Living since it was founded in 1988 to revamp Holocaust education, creating an emotional experience that students could connect with outside of the classroom.

About 50 young Polish Christians greeted all who joined the march. "We're Israel's Polish friends. We're here because we believe Jesus is here. In this place, in our country, the biggest horrors in history were committed. We feel we must come here. We love you."

Rebecca and Maya, two 17-year-old Jewish girls from Florida, are third generation to the Holocaust. "I'm here for my grandfather," said Rebecca. "He was here in Auschwitz and his entire family was murdered here. For 10 years we learned in school about the Holocaust but nothing prepared us to the experience we had over the past week (visiting the death camps). This is something we won't be able to forget until our final days.

At this point, Maya burst out crying. "All week we were in ghettos and camps and I didn't cry even once. But now, when I look around and see all of the teenagers with flags from all of these countries, and with the Star of David, everything comes bursting out. I'm crying of sadness, but also from excitement and happiness."

A delegation from the Prime Minister's Office continued their march raising their Israeli high. "For most of us this is our first time here," they said, "but also for those who were already here, to arrive as part of the official state Israeli delegation, to represent the Jewish state, to demonstrate that Jews live in the place in which once stood death factories for Jews - is extremely significant for us all."

One of the young delegates, Keren Yissfar (23) said that she found in the list of names in Auschwitz 30 people from her family who were murdered. "My grandfather's family arrived here directly from Berlin," she said. Sam Peletz, a Holocaust survivor aged 83 who escorted the delegation from Florida, stood in the middle of the crowd as 20 young people surrounded him, sanf to him and came to him one after the other to receive a big hug. "That was an extremely emotional experience for them," he explained. "Only when they come here do they begin to internalize a little what happened here 70 years ago. All that I can do is share my experiences with them and hope that they will learn something from them. They said to me that they feel that they became better Jews as a result of the visit," Peletz said.

Alexa and Carly, both aged 19 from South Africa, said that they were proud of themselves for deciding to join the march. "Carly didn't want to. She was frightened that it would be too hard," Alexa said "but now she is thanking me."

This year, the march was led by Israel's Justice Minister Ayelet Shaked, former Chief Rabbi of Israel and current Chief Rabbi of Tel Aviv Yisrael Meir Lau, and a delegation of five Knesset members and international law experts who participated in a conference organized by the March of Living Foundation on Wednesday to mark 80 years to the establishment of the Nuremberg Laws and 70 years to the Nuremberg Trials.

In light of the ISIS suicide bombings in Europe over the past year, the March of the Living received unprecedented security on Thursday, and included both undercover and uniformed Polish policemen, as well as security guards hired by the march's organizers.

March of the Living vice chairman Aharon Tamir said that many parents of teens expected to participate in the march have expressed concern for the safety of their children. "This is a wide-scale logistical operation that we've been working on for months," he said.

"A recent academic study confirmed what we already felt: individuals that participated in March of the Living return home with a strengthened Jewish identity and commitment to Israel," said Dr. Rosenman, the Chairman of March of the Living, "We expect this year's March to educate and inspire more youth who will return to their communities as leaders and activists."

The study was published this year by Prof. William Helmreich and found that past participants in the program were significantly more likely to return to Israel, provide a Jewish education for their children and marry a Jewish spouse.