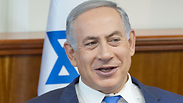 Benjamin Netanyahu
Photo: Emile Salman, Haaretz
State Comptroller Yosef Shapira intends to publish a scathing report about Operation Protective Edge in Gaza in 2014. The expected critique condemns the conduct of Prime Minister Benjamin Netanyahu, Defense Minister Moshe Ya'alon and former Chief of Staff Benny Gantz, according to television news channels reporting Thursday.

A draft of the secret report was presented before cabinet members who served during the operation.

According to the news channels, the draft contains a claim that, among other things, Netanyahu and Ya'alon did not update the cabinet about Shin Bet warnings of possible military conflicts against Hamas in July 2014 and that Netanyahu's government never discussed the tunnel threat until Operation Protective Edge itself. Gantz is expected to be criticised for the military evaluations which he submitted to the cabinet.

During recent weeks Netanyahu has undertaken great efforts to soften the harsh charges leveled in the report. Among other things, Netanyahu met with Shapira and with people from his office in an effort to explain the damage which can be caused by the report if it is published in its current version.

Indeed, officials who read the draft said that "we are talking about a report which is a lot worse than the Winograd report which analyzed the failures of the Second Lebanon War (of2006)." They also added that the report constitutes a political ticking bomb that will depict Operation Protective Edge as a grave failure exceeding that of the Second Lebanon War." The report, they said, will posit that nothing has changed and that the lessons of the most recent Lebanon war have not been learned.

Netanyahu's close circle is already preparing preventative steps and has rebuffed the claims as not being serious. They rejected the findings, claiming that "the operation was managed in a transparent manner and concluded successfully. All the rest is slander." Moreover, they insisted that cabinet sessions were convened many times and their meetings included talks of the threat of tunnels.

Officials in Ya'alon's circle were no less aggressive in their rejections. "This is a scandalous draft, with its leak prior to the comptroller's remarks and its content, which is not connected with what is happening. The facts in the draft are inaccurate, and whoever wrote it does not understand the decision making process and how the cabinet works. Regarding the tunnels, the report is also disconnected from reality. The State of Israel deals with the subject of tunnels to which it has dedicated mass resources for many years. Whoever claims that he was unfamiliar with the tunnels and the their handlings is lying to the public. The draft is fraught with inaccuracies and lacks understanding of the operations and the system," it concluded.